Using a flat-bed truck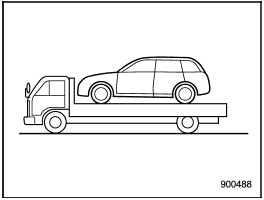 This is the best way to transport your vehicle. Use the following procedures to ensure safe transportation.
1. Shift the select lever into the "P" position for automatic transmission models or "1st" for manual transmission models.
2. Pull up the parking brake lever firmly.
3. Secure the vehicle onto the carrier properly with safety chains. Each safety chain should be equally tightened and care must be taken not to pull the chains so tightly that the suspension bottoms out.

If your vehicle has a front underspoiler and rear underspoiler (if equipped), be careful not to scrape them when placing the vehicle on the carrier and when removing the vehicle from the carrier.
See also:
Cruise control set indicator light
The cruise control set indicator light illuminates when the ignition switch is turned to the "ON" position and turns off after approximately 3 seconds. The light illuminates when vehicle speed ha ...
Jump starting
WARNING ● Battery fluid is SULFURIC ACID. Do not let it come in contact with the eyes, skin, clothing or the vehicle. If battery fluid gets on you, thoroughly flush the exposed area with wat ...
To decrease the speed (by the "RES/SET" switch)
Press the "RES/SET" switch to the "SET" side and hold it until the vehicle reaches the desired speed. Then, release the switch. The vehicle speed at that moment will be memorized and treated as ...