Using a flat-bed truck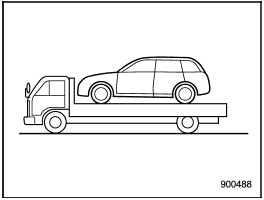 This is the best way to transport your vehicle. Use the following procedures to ensure safe transportation.
1. Shift the select lever into the УPФ position for automatic transmission models or У1stФ for manual transmission models.
2. Pull up the parking brake lever firmly.
3. Secure the vehicle onto the carrier properly with safety chains. Each safety chain should be equally tightened and care must be taken not to pull the chains so tightly that the suspension bottoms out.

If your vehicle has a front underspoiler and rear underspoiler (if equipped), be careful not to scrape them when placing the vehicle on the carrier and when removing the vehicle from the carrier.
See also:
Vehicle finder function
Use this function to find your vehicle parked among many vehicles in a large parking lot. Provided you are within 30 feet (10 meters) of the vehicle, pressing the УФ button three times in a 5- ...
Recommended clutch fluid
Refer to УFluidsФ. Never use different brands of clutch fluid together. Also, avoid mixing DOT 3 and DOT 4 brake fluids even if they are the same brand. ...
Checking the brake pedal reserve distance
1) More than 2.56 in (65 mm) Depress the pedal with a force of approximately 66 lbf (294 N, 30 kgf) and measure the distance between the upper surface of the pedal pad and the floor. When the meas ...