Side mirrors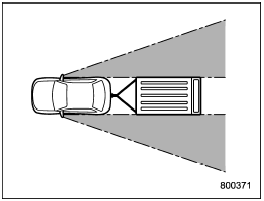 Side mirrors
After hitching a trailer to your vehicle, check that the standard side mirrors provide a good rearward field of view without significant blind spots. If significant blind spots occur with the vehicle's standard side mirrors, use towing mirrors that conform with Federal, state/province and/ or other applicable regulations.
See also:
Drive belts
It is unnecessary to check the deflection of the drive belt periodically because your engine is equipped with an automatic belt tension adjuster. However, replacement of the belt should be done ac ...
To install the cover housing
1. Shorten the bar. 2. Insert the projections located on the both ends of the sleeve into the recesses of the retainers. ...
If the light illuminates constantly
If the light illuminates constantly while driving or does not turn off after the engine starts, an emission control system malfunction has been detected. You should have your vehicle checked by an ...