Roof rail (if equipped)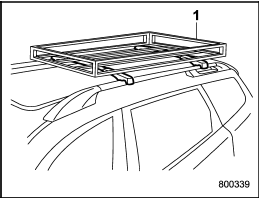 1) Roof rack
Luggage can be carried on the roof after securing the roof rack to the roof rail.
When installing the roof rack on the roof rail, follow the manufacturer's instructions.
The roof rail is designed to carry loads (luggage and roof rack) of not more than 150 lbs (68 kg).

- When using the roof rack, make sure that the total carrying load of the roof rack and luggage does not exceed 150 lbs (68 kg). Overloading may cause damage to the vehicle.
- For cargo carrying purposes, the roof rail must be used together with the roof rack and any appropriate carrying attachment that may be needed. The roof rail must never be used alone to carry cargo. Otherwise, damage to the roof or paint or a dangerous road hazard due to loss of cargo could result.
NOTE
Remember that the vehicle's center of gravity is altered with the weight of the load on the roof, thus affecting driving characteristics.
Drive carefully. Avoid rapid starts, hard cornering and abrupt stops. Crosswind effects will be increased.
See also:
Most common causes of corrosion
The most common causes of corrosion are: 1. The accumulation of moisture retaining dirt and debris in body panel sections, cavities, and other areas. 2. Damage to paint and other protective ...
2011 Subaru Legacy review
The Subaru Legacy has been redesigned for 2010 and now boasts a bigger backseat and improved gas mileage, with the same nimble steering the 2009 model had. Snowbelt drivers will appreciate its sta ...
Replacement of wiper blades
Grease, wax, insects, or other material on the windshield or the wiper blade results in jerky wiper operation and streaking on the glass. If you cannot remove the streaks after operating the windshiel ...