Using the cover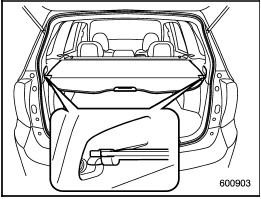 Using the cover
To extend the cover, pull the end of the cover out of the housing, then insert its hooks into the catches as shown. To rewind it, unhook it from the catches and it will rewind automatically. You should hold on to the cover and guide it back into the cover housing while it is rewinding.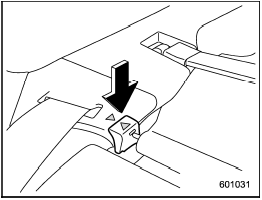 Install the front cover behind the rear seatback.

Do not place anything on the extended cover. Putting excessive weight on the extended cover can break it and an object on the cover could tumble forward in the event of a sudden stop or collision. This could cause serious injury.

- Be careful not to scratch the rear gate stays while extending and rewinding the cover. Scratches on the stays could cause leakage of gas from the stays, which may result in their inability to hold the rear gate open.
- If the vehicle is equipped with a reclining rear seatback feature, when reclining the rear seatback, move the front cover backward so that the cover is not damaged.
See also:
Driving on snowy and icy roads
To prevent skidding and slipping, avoid sudden braking, abrupt acceleration, highspeed driving, and sharp turning when driving on snowy or icy roads. Always maintain ample distance between yo ...
Registering by phone
1. Select the "BY PHONE" menu. 2. Select the "CONFIRM" menu. Then "TRANSFER" is displayed. 3. Transfer the data from the cell phone. For details about transferring the data, refer to the Owner' ...
XMTM satellite radio (for U.S.A. only)
XMTM is a continental U.S. based satellite radio service, including music, news, sports, talk and children's programming. XMTM provides digital quality audio and text information, including song t ...