Other settings (type A, B and C audio)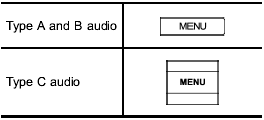 Each brief press of the "MENU" button changes the control modes in the following sequence.
Type A audio:

Type B audio:

Type C audio:

Choose the preferred settings for each mode by turning the "TUNE/TRACK/CH" dial.
The control function returns to the tune/ track/channel control mode after approximately 5 seconds.