Road surface freeze warning indication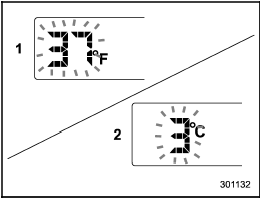 Road surface freeze warning indication
1) U.S.-spec. models
2) Except U.S.-spec. models
When the outside temperature drops to 378F (38 C) or lower, the temperature indication flashes to show that the road surface may be frozen.
If the outside temperature drops to 378F (38C) or lower while the display is giving an indication other than the outside temperature, the display switches to the outside temperature indication and flashes for 5 seconds before returning to its original indication.
If the display is already indicating an outside temperature of 378F (38 C) or lower, the indication does not flash even when the outside temperature drops to 378F (38C) or lower again, unless the outside temperature has increased to 418F (58C) or higher.
NOTE
The outside temperature indication may differ from the actual outside temperature. The road surface freeze warning indication should be treated only as a guide. Be sure to check the condition of the road surface before driving.
See also:
3.6-liter H6 Engine: Premium Performance with Regular-Grade Fuel
The new 3.6-liter H6 engine replaces the previous 3.0-liter H6, yet features the same external dimensions thanks primarily to a unique shortened connecting rod design. As a result, this larger-dis ...
Average fuel consumption
1) U.S.-spec. models 2) Except U.S.-spec. models This indication shows the average rate of fuel consumption since the trip meter was last reset. When either of the trip meter indications is reset ...
Display selection
If you press the "TEXT" button during playback, the indication will change to the next one in the following sequence. For CD-DA: ...