Road surface freeze warning indication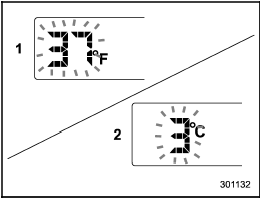 Road surface freeze warning indication
1) U.S.-spec. models
2) Except U.S.-spec. models
When the outside temperature drops to 378F (38 C) or lower, the temperature indication flashes to show that the road surface may be frozen.
If the outside temperature drops to 378F (38C) or lower while the display is giving an indication other than the outside temperature, the display switches to the outside temperature indication and flashes for 5 seconds before returning to its original indication.
If the display is already indicating an outside temperature of 378F (38 C) or lower, the indication does not flash even when the outside temperature drops to 378F (38C) or lower again, unless the outside temperature has increased to 418F (58C) or higher.
NOTE
The outside temperature indication may differ from the actual outside temperature. The road surface freeze warning indication should be treated only as a guide. Be sure to check the condition of the road surface before driving.
See also:
Ride & Handling
The Outback shines in terms of ride comfort. It's surprisingly tame and confident at 70 mph and higher, and it definitely feels like a car rather than an SUV. Its wagon style doesn't harm the Outb ...
Double trip meter
Double trip meter The trip meter shows the distance that the vehicle has been driven since you last set it to zero. To set the trip meter to zero, select the A trip or B trip meter by pushing the kn ...
Precautions to observe when handling a compact disc
Use only compact discs (CDs, CD-Rs and CD-RWs) that have the mark shown in the following. Also, some compact discs cannot be played. - You cannot use a DualDisc in the CD player. If you i ...