Road surface freeze warning indication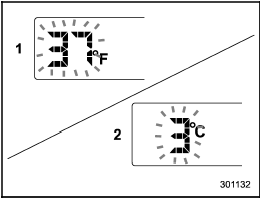 Road surface freeze warning indication
1) U.S.-spec. models
2) Except U.S.-spec. models
When the outside temperature drops to 378F (38 C) or lower, the temperature indication flashes to show that the road surface may be frozen.
If the outside temperature drops to 378F (38C) or lower while the display is giving an indication other than the outside temperature, the display switches to the outside temperature indication and flashes for 5 seconds before returning to its original indication.
If the display is already indicating an outside temperature of 378F (38 C) or lower, the indication does not flash even when the outside temperature drops to 378F (38C) or lower again, unless the outside temperature has increased to 418F (58C) or higher.
NOTE
The outside temperature indication may differ from the actual outside temperature. The road surface freeze warning indication should be treated only as a guide. Be sure to check the condition of the road surface before driving.
See also:
Erasing HomeLinkЃ button memory
NOTE Х Performing this procedure erases the memory of all the preprogrammed buttons simultaneously. The memory of individual buttons cannot be erased. Х It is recommended that upon the sale of the v ...
Driving with a trailer
● You should allow for considerably more stopping distance when towing a trailer. Avoid sudden braking because it may result in skidding or jackknifing and loss of control. ● Avoid ab ...
Recommended brake fluid
Refer to УFluidsФ. Never use different brands of brake fluid together. Also, avoid mixing DOT 3 and DOT 4 brake fluids even if they are the same brand. ...