Road surface freeze warning indication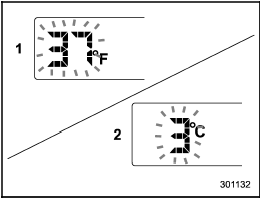 Road surface freeze warning indication
1) U.S.-spec. models
2) Except U.S.-spec. models
When the outside temperature drops to 378F (38 C) or lower, the temperature indication flashes to show that the road surface may be frozen.
If the outside temperature drops to 378F (38C) or lower while the display is giving an indication other than the outside temperature, the display switches to the outside temperature indication and flashes for 5 seconds before returning to its original indication.
If the display is already indicating an outside temperature of 378F (38 C) or lower, the indication does not flash even when the outside temperature drops to 378F (38C) or lower again, unless the outside temperature has increased to 418F (58C) or higher.
NOTE
The outside temperature indication may differ from the actual outside temperature. The road surface freeze warning indication should be treated only as a guide. Be sure to check the condition of the road surface before driving.
See also:
Cargo area cover (if equipped)
The cargo area cover is provided for covering the cargo area and to protect its contents from direct sunlight. This cover is detachable to make room for additional cargo. ...
A Larger, Classier Cabin
At a time in automotive history when vehicles' shoulder lines are getting high enough to make a submariner claustrophobic, the 2012 Impreza is more like a skiff. The 2012's windowsills are almost ...
Safety precautions
• For safety reasons, avoid operating the cell phone while driving. • Do not make a phone call while driving. When you have an incoming call, stop the vehicle in a safe location before taking the ...