Security indicator light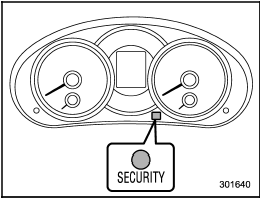 Type A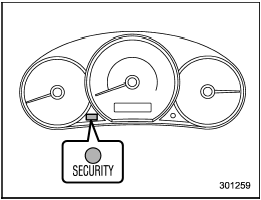 Type B
The security indicator light deters potential thieves by indicating that the vehicle is equipped with an immobilizer system. It begins flashing in the following ways.
- Once approximately every 3 seconds:
– Approximately 60 seconds after the ignition switch is turned from the "ON" position to the "Acc" or "LOCK" position
– Immediately after the ignition key is pulled out
- Twice approximately every 2 seconds:
After the alarm system has been armed for surveillance (Refer to "Arming the system".)
- Five times approximately every 2 seconds:
When the alarm system is ready to be armed.
- Other flashing patterns:
The alarm system may have been triggered by unauthorized intrusion or any impact to the vehicle body. Refer to "Tripped sensor identification".
If the security indicator light does not flash, the immobilizer system may not be functioning properly. If this occurs, contact your SUBARU dealer as soon as possible.
In case an unauthorized key is used (e.g., an imitation key), the security indicator light illuminates.
NOTE
Even if the security indicator light flashes irregularly or its fuse blows (the light does not flash if its fuse is blown), the immobilizer system will function normally.
See also:
How to use as crossbars
CAUTION ● Do not raise the bar higher than necessary. The base of the bar may be damaged. ● Be careful not to contact the bars while sliding them. Otherwise, the bars may be scratched ...
Bold Design Statement Also Enhances Functionality
The all new Subaru Impreza conveys a bolder, more confident design that emphasises its sporty roots and standard All-Wheel Drive system. In profile, the 2012 Impreza draws focus to its wheels with ...
2011 Subaru Legacy review
The Subaru Legacy has been redesigned for 2010 and now boasts a bigger backseat and improved gas mileage, with the same nimble steering the 2009 model had. Snowbelt drivers will appreciate its sta ...