Auto-dimming function
The auto-dimming function is an anti-glare capability which automatically reduces glare coming from headlights of vehicles behind you.
By pressing the power button, the autodimming function is toggled on or off.
When the auto-dimming function is on, the function indicator will illuminate in green. Even with the mirror in anti-glare mode, the mirror surface turns bright if the transmission is shifted into the "R" (reverse) position. This is to ensure good rearward visibility during reversing.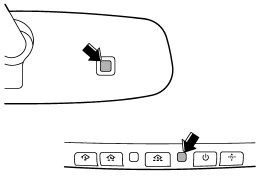 The mirror has a photosensor attached on both the front and back sides. During nighttime driving, these sensors detect distracting glare from vehicle headlights behind you and automatically dim the mirror to eliminate glare and preserve your vision. For this reason, use care not to cover the sensors with stickers, or other similar items. Periodically wipe the sensors clean using a piece of dry soft cotton cloth or an applicator.
NOTE
When cleaning the mirror, use a paper towel or similar item dampened with glass cleaner. Do not spray glass cleaner directly on the mirror surface. By doing so, the sprayed glass cleaner could enter the inside of the mirror housing. That may cause a malfunction in the mirror.
See also:
Delivering superior crash safety protection
Using the advanced ring-shaped reinforcements throughout the Subaru Outback bodyshell enhances collision safety and resistance to impacts from all directions. In addition, the newly adopted sub-fr ...
Trailer safety chains
Always use safety chains between your vehicle and the trailer. Towing a trailer without safety chains could create a traffic safety hazard if the trailer separates from the hitch due to ...
Air conditioner compressor shut-off when engine is heavily loaded
To improve acceleration and gas mileage, the air conditioner compressor is designed to temporarily shut off during air conditioner operation whenever the accelerator is fully depressed such as dur ...