Moonroof (if equipped)

Never let anyone's hands, arms, head or any objects protrude from the moonroof. A person could be seriously injured if the vehicle stops suddenly or turns sharply or if the vehicle is involved in an accident.
To avoid serious personal injury caused by entrapment, always conform to the following instructions without exception.
- Before closing the moonroof, make sure that no one's hands, arms, head or other objects will be accidentally caught in the moonroof.
- Before leaving the vehicle, always remove the key from the ignition switch for safety and never allow an unattended child to remain in the vehicle. Failure to follow this procedure could result in injury to a child operating the moonroof.
- Never try to check the anti-entrapment function by deliberately placing part of your body in the moonroof.

- Do not sit on the edge of the open moonroof.
- Do not operate the moonroof if falling snow or extremely cold conditions have caused it to freeze shut.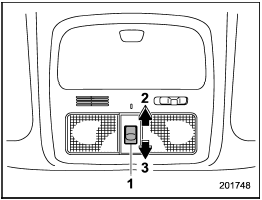 1) Open/close switch
2) Open
3) Close
The moonroof operates only when the ignition switch is in the "ON" position.
See also:
Towing and tie-down hooks
The towing hooks should be used only in an emergency (e.g., to free a stuck vehicle from mud, sand or snow). - Use only the specified towing hook and tie-down hook. Never use suspension p ...
Most common causes of corrosion
The most common causes of corrosion are: 1. The accumulation of moisture retaining dirt and debris in body panel sections, cavities, and other areas. 2. Damage to paint and other protective coatin ...
"up" and "down" switch
With radio mode selected Press the switch to the "" or "" side briefly to skip to a preset channel. Press the switch to the "" or "" side for more than 0.5 second to seek the next receivable ...