Moonroof (if equipped)

Never let anyone's hands, arms, head or any objects protrude from the moonroof. A person could be seriously injured if the vehicle stops suddenly or turns sharply or if the vehicle is involved in an accident.
To avoid serious personal injury caused by entrapment, always conform to the following instructions without exception.
- Before closing the moonroof, make sure that no one's hands, arms, head or other objects will be accidentally caught in the moonroof.
- Before leaving the vehicle, always remove the key from the ignition switch for safety and never allow an unattended child to remain in the vehicle. Failure to follow this procedure could result in injury to a child operating the moonroof.
- Never try to check the anti-entrapment function by deliberately placing part of your body in the moonroof.

- Do not sit on the edge of the open moonroof.
- Do not operate the moonroof if falling snow or extremely cold conditions have caused it to freeze shut.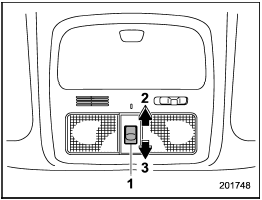 1) Open/close switch
2) Open
3) Close
The moonroof operates only when the ignition switch is in the "ON" position.
See also:
California Perchlorate Advisory
Certain vehicle components such as airbag modules, seatbelt pretensioners and keyless entry transmitter batteries may contain perchlorate material. Special handling may apply for service or ve ...
Cargo area light (Outback)
1. Remove the lens by prying the edge of the lens with a flat-head screwdriver. 2. Pull the bulb out of the socket. 3. Install a new bulb. 4. Reinstall the lens. ...
Installation of accessories
Always consult your SUBARU dealer before installing a citizen band radio or other transmitting device in your vehicle. Such devices may cause the electronic control system to malfunction if they a ...