Locking and unlocking from the inside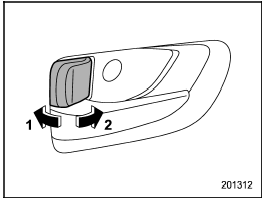 Locking and unlocking from the inside
1) Lock
2) Unlock
To lock the door from the inside, rotate the lock lever rearward. To unlock the door from the inside, rotate the lock lever forward.
The red mark on the lock lever appears when the door is unlocked.
Pull the inside door handle to open an unlocked door.
Always make sure that all doors and the rear gate are closed before starting to drive.

Keep all doors locked when you drive, especially when small children are in your vehicle.
Along with the proper use of seatbelts and child restraints, locking the doors reduces the chance of being thrown out of the vehicle in an accident.
It also helps prevent passengers from falling out if a door is accidentally opened, and intruders from unexpectedly opening doors and entering your vehicle.
See also:
Expectant mothers
Expectant mothers also need to use the seatbelts. They should consult their doctor for specific recommendations. The lap belt should be worn securely and as low as possible over the hips, not ov ...
Cargo tie-down hooks (5-door – if equipped)
The cargo area is equipped with four tiedown hooks so that cargo can be secured with a cargo net or ropes. When using the tie-down hooks, turn them down out of the storing recesses. When not in use ...
Odometer
Odometer The odometer shows the total distance that the vehicle has been driven. ...