Locking and unlocking from the inside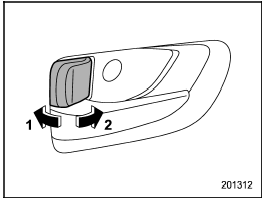 Locking and unlocking from the inside
1) Lock
2) Unlock
To lock the door from the inside, rotate the lock lever rearward. To unlock the door from the inside, rotate the lock lever forward.
The red mark on the lock lever appears when the door is unlocked.
Pull the inside door handle to open an unlocked door.
Always make sure that all doors and the rear gate are closed before starting to drive.

Keep all doors locked when you drive, especially when small children are in your vehicle.
Along with the proper use of seatbelts and child restraints, locking the doors reduces the chance of being thrown out of the vehicle in an accident.
It also helps prevent passengers from falling out if a door is accidentally opened, and intruders from unexpectedly opening doors and entering your vehicle.
See also:
Registering (pairing) device
1. Select the "PAIR AUDIO" (type C audio)/"Pair Audio Player" (type D audio) menu. If a device is already registered, "MEMORY FULL" is displayed and the mode changes to the Bluetooth® audio ...
Coat hook
WARNING Do not hang coat hangers or other hard or pointed objects on the coat hooks. If such items were hanging on the coat hooks during deployment of the SRS curtain airbags, they could cause ...
Brake pad and lining
While maintaining a speed of 30 to 40 mph (50 to 65 km/h), step on the brake pedal lightly. Repeat this five or more times. ...