Locking and unlocking from the inside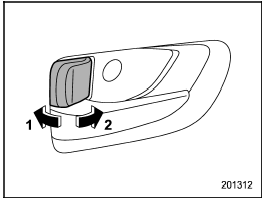 Locking and unlocking from the inside
1) Lock
2) Unlock
To lock the door from the inside, rotate the lock lever rearward. To unlock the door from the inside, rotate the lock lever forward.
The red mark on the lock lever appears when the door is unlocked.
Pull the inside door handle to open an unlocked door.
Always make sure that all doors and the rear gate are closed before starting to drive.

Keep all doors locked when you drive, especially when small children are in your vehicle.
Along with the proper use of seatbelts and child restraints, locking the doors reduces the chance of being thrown out of the vehicle in an accident.
It also helps prevent passengers from falling out if a door is accidentally opened, and intruders from unexpectedly opening doors and entering your vehicle.
See also:
Efficient cooling after parking in direct sunlight
After parking in direct sunlight, drive with the windows open for a few minutes to allow outside air to circulate into the heated interior. This results in quicker cooling by the air conditioner. ...
Satellite radio operation (if equipped)
To receive satellite radio, it is necessary to install the SUBARU genuine satellite receiver for some models, and to enter into a contract with a satellite radio network service such as "XMTM sate ...
Forward and backward adjustment
Forward and backward adjustment Pull the lever upward and slide the seat to the desired position. Then release the lever and try to move the seat back and forth to make sure that it is securely locke ...