Examples of the types of accidents in which the SRS side airbag is unlikely to deploy.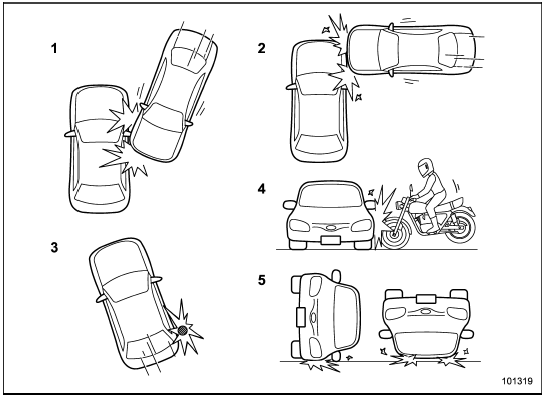 1) The vehicle is involved in an oblique side-on impact.
2) The vehicle is involved in a side-on impact in an area outside the vicinity of the passenger compartment.
3) The vehicle strikes a telephone pole or similar object.
4) The vehicle is involved in a side-on impact from a motorcycle.
5) The vehicle rolls onto its side or roof.
There are many types of collisions which might not necessarily require SRS side airbag deployment. In the event of accidents like those illustrated, the SRS side airbag may not deploy depending on the level of accident forces involved.
See also:
Brake pad and lining
While maintaining a speed of 30 to 40 mph (50 to 65 km/h), step on the brake pedal lightly. Repeat this five or more times. ...
Windshield washer fluid
If you spray washer fluid on the windshield but the supply of washer fluid appears to diminish, check the level of washer fluid in the tank. Washer fluid level gauge Remove the washer tank fill ...
New Chassis Tuning for 2011
The Subaru Impreza WRX STI was already a highly optimized performance machine. Specific chassis tuning. Aluminum front lower L-arms reduce unsprung vehicle weight. Major chassis tuning changes inc ...