Safety symbol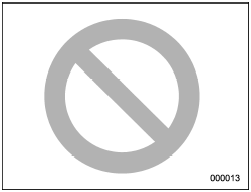 You will find a circle with a slash through it in this manual. This symbol means"Do not", "Do not do this", or"Do not let this happen", depending upon the context.
See also:
Models with HID headlights
High Intensity Discharge (HID) headlights contain mercury. For that reason, it is necessary to remove HID headlights before vehicle disposal. Once removed, please reuse, recycle or dispose of the H ...
SPEED VOLUME setting
SPEED VOLUME CONTROL is a function that automatically adjusts the volume according to the vehicle speed. As the vehicle speed increases, the audio volume automatically increases to match the vehicle s ...
Aluminum wheels
Aluminum wheels can be scratched and damaged easily. Handle them carefully to maintain their appearance, performance, and safety. ● When any of the wheels is removed and replaced for tire rot ...