Legacy
NOTE
It may be difficult to replace the bulbs. We recommend that you have the bulbs replaced by your SUBARU dealer if necessary.
1. Open the trunk.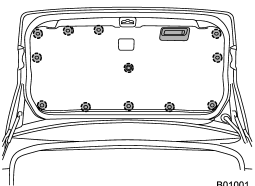 2. Remove the trunk trim lining by removing the 12 clips and the trunk trim handle.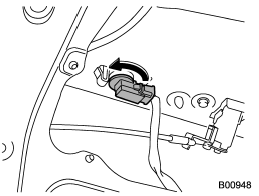 3. Turn the bulb socket counterclockwise and remove it.
4. Pull the bulb out of the bulb socket and replace it with a new one.
5. Install the bulb socket by turning it clockwise.
6. Reinstall the trunk trim lining.
See also:
Warning and indicator lights
...
When checking or servicing in the engine compartment while the engine is running
A running engine can be dangerous. Keep your fingers, hands, clothing, hair and tools away from the cooling fan, belts and any other moving engine parts. Removing rings, watches and ties is advis ...
XMTM satellite radio (for U.S.A. only)
XMTM is a continental U.S. based satellite radio service, including music, news, sports, talk and children's programming. XMTM provides digital quality audio and text information, including song t ...