High beam light bulbs
1. Remove the air intake duct (right-hand side). For the method to remove the air intake duct, refer to "Removing air intake duct" F11-7.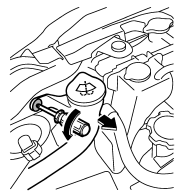 Left-hand side
2. Use a screwdriver to remove the secured clip of the washer tank. To make it easy to access the bulb, move the washer tank to the horizontal direction (left-hand side).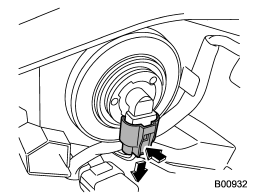 3. Disconnect the electrical connector from the bulb.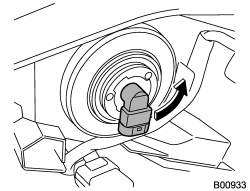 4. Remove the bulb from the headlight assembly by turning it counterclockwise.
5. Replace the bulb with new one. At this time, use care not to touch the bulb surface.
6. Reconnect the electrical connector.
7. To install the bulb to the headlight assembly, turn it clockwise until it clicks.
8. Install the air intake duct with clips (right-hand side).
9. Set the washer tank to the original place and secure it by clip (left-hand side).
See also:
How to jump start
1. Make sure the booster battery is 12 volts and the negative terminal is grounded. 2. If the booster battery is in another vehicle, do not let the two vehicles touch. 3. Turn off all unnecessary ...
Electronic Brake Force Distribution (EBD) system
The EBD system maximizes the effectiveness of the brakes by allowing the rear brakes to supply a greater proportion of the braking force. It functions by adjusting the distribution of braking ...
Overview
Launched in Europe in 1996, the Subaru Outback pioneered the 'Crossover' concept, combining the comfort, interior space and superior on-road handling of a family estate, with the off-road capabili ...