High beam light bulbs
1. Remove the air intake duct (right-hand side). For the method to remove the air intake duct, refer to УRemoving air intake ductФ F11-7.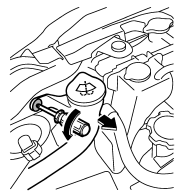 Left-hand side
2. Use a screwdriver to remove the secured clip of the washer tank. To make it easy to access the bulb, move the washer tank to the horizontal direction (left-hand side).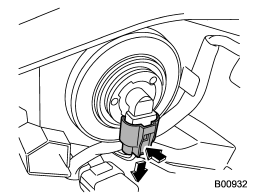 3. Disconnect the electrical connector from the bulb.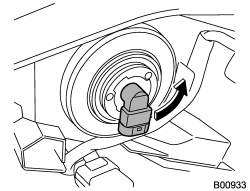 4. Remove the bulb from the headlight assembly by turning it counterclockwise.
5. Replace the bulb with new one. At this time, use care not to touch the bulb surface.
6. Reconnect the electrical connector.
7. To install the bulb to the headlight assembly, turn it clockwise until it clicks.
8. Install the air intake duct with clips (right-hand side).
9. Set the washer tank to the original place and secure it by clip (left-hand side).
See also:
Illumination brightness control
The brightness of clock display, audio, air conditioner, information display and instrument panel illumination dims when the light switch is in the УФ or УФ positions. You can adjust brightness of t ...
The Inside
The cabin boasts more conventional lines and adult-friendly room, with a number of welcome changes. The doors now have window frames, yielding a more substantial thunk when you shut them. The back ...
Using the select lever
Shift to the next-higher gear by briefly pushing the select lever toward the У+Ф end of the manual gate. Shift to the next-lower gear by briefly pulling the select lever toward the У−Ф end of ...