High beam light bulbs
1. Remove the air intake duct (right-hand side). For the method to remove the air intake duct, refer to "Removing air intake duct" F11-7.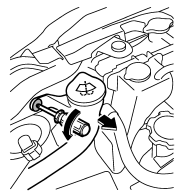 Left-hand side
2. Use a screwdriver to remove the secured clip of the washer tank. To make it easy to access the bulb, move the washer tank to the horizontal direction (left-hand side).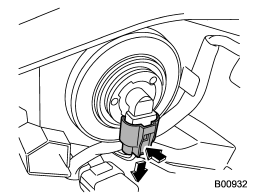 3. Disconnect the electrical connector from the bulb.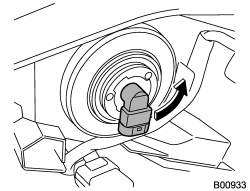 4. Remove the bulb from the headlight assembly by turning it counterclockwise.
5. Replace the bulb with new one. At this time, use care not to touch the bulb surface.
6. Reconnect the electrical connector.
7. To install the bulb to the headlight assembly, turn it clockwise until it clicks.
8. Install the air intake duct with clips (right-hand side).
9. Set the washer tank to the original place and secure it by clip (left-hand side).
See also:
Driving tips
● On a road surface where there is a risk of wheelspin (for example, a snow- or gravel-covered road), you can pull away from a standstill safely and easily by first selecting the 2nd gear of ...
Ignition switch
• Never turn the ignition switch to "LOCK" while the vehicle is being driven or towed because that will lock the steering wheel, preventing steering control. And when the engine is turned off, it ...
Other settings (type A, B and C audio)
Each brief press of the "MENU" button changes the control modes in the following sequence. Type A audio: Type B audio: Type C audio: Choose the preferred settings for each mode by tu ...