High beam light bulbs
1. Remove the air intake duct (right-hand side). For the method to remove the air intake duct, refer to "Removing air intake duct" F11-7.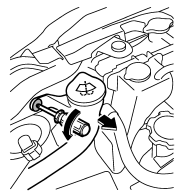 Left-hand side
2. Use a screwdriver to remove the secured clip of the washer tank. To make it easy to access the bulb, move the washer tank to the horizontal direction (left-hand side).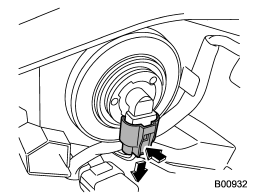 3. Disconnect the electrical connector from the bulb.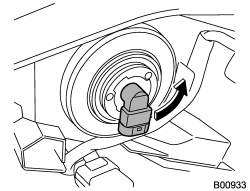 4. Remove the bulb from the headlight assembly by turning it counterclockwise.
5. Replace the bulb with new one. At this time, use care not to touch the bulb surface.
6. Reconnect the electrical connector.
7. To install the bulb to the headlight assembly, turn it clockwise until it clicks.
8. Install the air intake duct with clips (right-hand side).
9. Set the washer tank to the original place and secure it by clip (left-hand side).
See also:
2011 Subaru Outback review
Somewhere amid the parade of crossovers and wagon-like vehicles is the Subaru Outback. Once merely a version of the Legacy wagon, which has since been discontinued, it's now a household name among ...
Air inlet selection button
ON position (recirculation): Interior air is recirculated inside the vehicle. Press the air inlet button to the ON position. The indicator light will illuminate. Place this button in the ON posit ...
Internal trunk lid release handle
The internal trunk lid release handle is a device designed to open the trunk lid from inside the trunk. In the event children or adults become locked inside the trunk, the handle allows them to open t ...