High beam light bulbs
1. Remove the air intake duct (right-hand side). For the method to remove the air intake duct, refer to "Removing air intake duct" F11-7.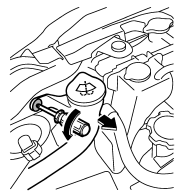 Left-hand side
2. Use a screwdriver to remove the secured clip of the washer tank. To make it easy to access the bulb, move the washer tank to the horizontal direction (left-hand side).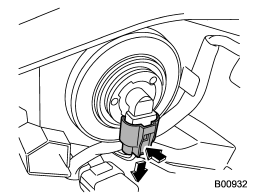 3. Disconnect the electrical connector from the bulb.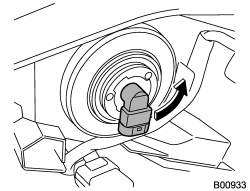 4. Remove the bulb from the headlight assembly by turning it counterclockwise.
5. Replace the bulb with new one. At this time, use care not to touch the bulb surface.
6. Reconnect the electrical connector.
7. To install the bulb to the headlight assembly, turn it clockwise until it clicks.
8. Install the air intake duct with clips (right-hand side).
9. Set the washer tank to the original place and secure it by clip (left-hand side).
See also:
Fan speed control dial
The fan operates only when the ignition switch is turned to the "ON" position. The fan speed control dial is used to select four fan speeds. ...
Satellite radio reception
Satellite radio signals are best received in areas with a clear view of the open sky. In areas where there are tall buildings, trees, tunnels or other structures that may obstruct the signal of th ...
Tire pressures and wear
Maintaining the correct tire pressures helps to maximize the tires' service lives and is essential for good running performance. Check and, if necessary, adjust the pressure of each tire (inclu ...