Rear window wiper blade rubber (Outback)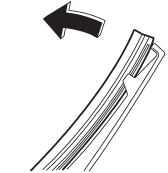 1. Pull out the end of the blade rubber assembly to unlock it from the plastic support.
2. Pull the blade rubber assembly out of the plastic support.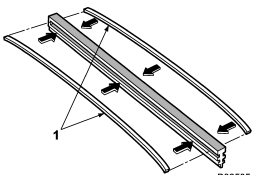 1) Metal spines
3. If the new blade rubber is not provided with two metal spines, remove the metal spines from the old blade rubber and install them in the new blade rubber.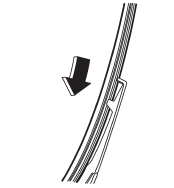 4. Align the claws of the plastic support with the grooves in the blade rubber assembly, then slide the blade rubber assembly into place.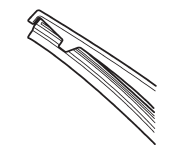 Securely retain both ends of the rubber with the stoppers on the plastic support ends. If the rubber is not retained properly, the wiper may scratch the rear window glass.
5. Install the wiper blade assembly to the wiper arm. Make sure that it locks in place.
6. Hold the wiper arm by hand and slowly lower it in position.
See also:
Periodic inspections
To keep your vehicle in the best condition at all times, always have the recommended maintenance services listed in the maintenance schedule in the "Warranty and Maintenance Booklet" performed at ...
Electronic Brake Force Distribution (EBD) system warning
The brake system warning light also illuminates if a malfunction occurs in the EBD system. In that event, it illuminates together with the ABS warning light. The EBD system may be malfunctioning i ...
Non-turbo models
1) Connector 2) Clip 3) Clamp 4) Air intake boot 5) Clip 1. Unplug the connector that is attached to the top of the air cleaner case. 2. Detach the connector cable from the clip on the right s ...