Wear indicators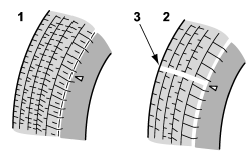 1) New tread
2) Worn tread
3) Tread wear indicator
Each tire incorporates a tread wear indicator, which becomes visible when the depth of the tread grooves decreases to 0.063 in (1.6 mm). A tire must be replaced when the tread wear indicator appears as a solid band across the tread.
WARNING
When a tire's tread wear indicator becomes visible, the tire is worn beyond the acceptable limit and must be replaced immediately. With a tire in this condition, driving at high speeds in wet weather can cause the vehicle to hydroplane. The resulting loss of vehicle control can lead to an accident.
NOTE
For safety, inspect the tire tread regularly and replace the tires before their tread wear indicators become visible.
See also:
Programming the transmitters
The remote keyless entry system is equipped with a special code learning feature that allows you to program new transmitter codes into the system or to delete old ones. The system can learn up to four ...
Light control switch
The light control switch only operates when the ignition key is inserted into the ignition switch. Regardless of the position of the light control switch, the illuminated lights are turned of ...
Operating the driver's window (type B)
Operating the driver's window (type B) 1) Open 2) Automatically open 3) Close To open: Push the switch down lightly and hold it. The window will open as long as the switch is held. This s ...