Replacement of brake pad and lining
CAUTION
If you continue to drive despite the scraping noise from the audible brake pad wear indicator, it will result in the need for costly brake rotor repair or replacement.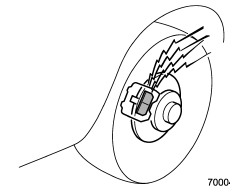 The right front disc brake and the right rear disc brake have audible wear indicators on the brake pads. If the brake pads wear close to their service limit, the wear indicator makes a very audible scraping noise when the brake pedal is applied.
If you hear this scraping noise each time you apply the brake pedal, have the brake pads serviced by your SUBARU dealer as soon as possible.
See also:
Checking the oil level
1) Yellow handle Check the oil level monthly. 1. Park the vehicle on a level surface and stop the engine. 2. Pull out the level gauge, wipe it clean, and insert it again. 1) Upper level ...
FM reception
Although FM is normally static free, reception can be affected by the surrounding area, atmospheric conditions, station strength and transmitter distance. Buildings or other obstructions may c ...
To install the cover housing
1. Remove the cover of the retainers by prying on the edge with a flat-head screwdriver. 2. Insert the projections located on the both ends of the sleeve into the recesses of the reta ...