Replacement of brake pad and lining
CAUTION
If you continue to drive despite the scraping noise from the audible brake pad wear indicator, it will result in the need for costly brake rotor repair or replacement.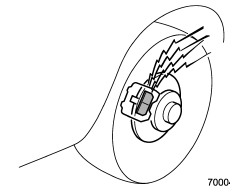 The right front disc brake and the right rear disc brake have audible wear indicators on the brake pads. If the brake pads wear close to their service limit, the wear indicator makes a very audible scraping noise when the brake pedal is applied.
If you hear this scraping noise each time you apply the brake pedal, have the brake pads serviced by your SUBARU dealer as soon as possible.
See also:
Driving range on remaining fuel
1) U.S.-spec. models 2) Except U.S.-spec. models The driving range indicates the distance that can be driven taking into account the amount of fuel remaining in the tank and the average rate of ...
Battery drainage prevention function
If a door or the rear gate (Outback) is not completely closed, the interior lights will remain illuminated as a result. However, several lights are automatically turned off by the battery drainage ...
Offroad Chops
The offroad portion of Subaru's press drive consisted of a lengthy course on California's Catalina Island, and I had a chance to tackle some fairly demolished dirt roads. I imagine a tiny fraction ...