Checking the oil level
1) Yellow handle
1. Park the vehicle on a level surface and stop the engine.
2. Pull out the level gauge, wipe it clean, and insert it again.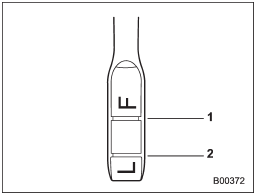 1) Upper level
2) Lower level
3. Pull out the level gauge again and check the oil level on it. If it is below the lower level, add oil to bring the level up to the upper level.

Be careful not to spill front differential gear oil when adding it. If oil touches the exhaust pipe, it may cause a bad smell, smoke, and/or a fire. If oil gets on the exhaust pipe, be sure to wipe it off.
See also:
Front position light
1. Turn the socket counterclockwise and pull it out. 2. Pull out the bulb from the socket and replace the bulb with a new one. ...
Windshield washer fluid warning light
This light illuminates when the fluid level in the windshield washer fluid tank decreases to the lower limit (approximately 0.6 US qt, 0.6 liter, 0.5 Imp qt). ...
Legacy
To fold down the seatback, perform the following procedure. 1. Open the trunk lid. Refer to "Opening the trunk lid (Legacy)" F2-9 or "To open the trunk lid from inside" F2-24. 1) Release lever ...