Checking the oil level
1) Yellow handle
1. Park the vehicle on a level surface and stop the engine.
2. Pull out the level gauge, wipe it clean, and insert it again.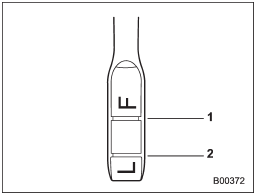 1) Upper level
2) Lower level
3. Pull out the level gauge again and check the oil level on it. If it is below the lower level, add oil to bring the level up to the upper level.

Be careful not to spill front differential gear oil when adding it. If oil touches the exhaust pipe, it may cause a bad smell, smoke, and/or a fire. If oil gets on the exhaust pipe, be sure to wipe it off.
See also:
Changing a flat tire
- Do not jack up the vehicle on an incline or a loose road surface. The jack can come out of the jacking point or sink into the ground and this can result in a severe accident. - Use onl ...
Outback in the Market
Utility and crossovers go hand-in-hand, and the Outback comes up strong on all the basics. Like every Subaru, its success will be limited by the automaker's insistence on standard all-wheel drive, ...
Driving when tired or sleepy
WARNING When you are tired or sleepy, your reaction will be delayed and your perception, judgment and attentiveness will be impaired. If you drive when tired or sleepy, your, your passengers' and ...