Checking the brake pedal reserve distance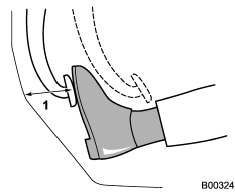 1) More than 2.56 in (65 mm)
Depress the pedal with a force of approximately 66 lbf (294 N, 30 kgf) and measure the distance between the upper surface of the pedal pad and the floor.
When the measurement is smaller than the specification, or when the pedal does not operate smoothly, contact with your SUBARU dealer.
See also:
While going down a hill
When you are descending a hill or any other slope while braking with the УSPORTФ mode selected, the transmission may downshift to 3rd or 2nd gear depending on how hard you depress the brake ...
Drinking and driving
WARNING Drinking and then driving is very dangerous. Alcohol in the bloodstream delays your reaction and impairs your perception, judgment and attentiveness. If you drive after drinking Ц even if ...
Random playback
Type A audio Type B audio To play back a track/file(s) at random, press the УRPT/RDMФ button for 0.5 second or longer (type A audio) or press the УRDMФ button (type B audio). ● For type ...