Windshield wiper blade rubber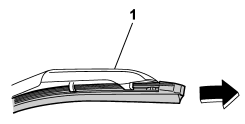 1) Support
1. Grasp the locked end of the blade rubber assembly and pull it firmly until the stoppers on the rubber are free of the support.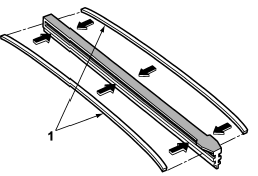 1) Metal spines
2. If the new blade rubber is not provided with two metal spines, remove the metal spines from the old blade rubber and install them in the new blade rubber.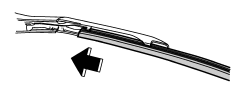 3. Align the claws of the support with the grooves in the rubber and slide the blade rubber assembly into the support until it locks.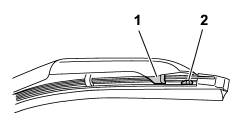 1) Claw
2) Stopper
4. Be sure to position the claws at the end of the support between the stoppers on the rubber as shown. If the rubber is not retained properly, the wiper blade may scratch the windshield.
See also:
System operation
The alarm system will sound the following alarms when triggered. • The vehicle's horn will sound for 30 seconds. • The turn signal lights will flash for 30 seconds. If any of the doors or the rear ...
Passive arming
When passive arming mode has been programmed by the dealer, arming of the system is automatically accomplished without using the remote transmitter. Note that in this mode, DOORS MUST BE MAN ...
Edgy exterior
While the interior may feel cheap, the exterior on either model is chunky and edgy. The big air intake on the hood, which always takes a little getting used, still adds to the car's looks instead ...