Windshield wiper blade rubber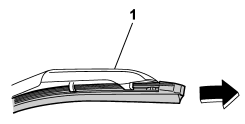 1) Support
1. Grasp the locked end of the blade rubber assembly and pull it firmly until the stoppers on the rubber are free of the support.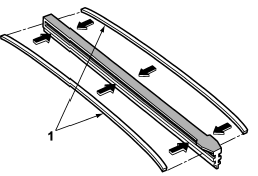 1) Metal spines
2. If the new blade rubber is not provided with two metal spines, remove the metal spines from the old blade rubber and install them in the new blade rubber.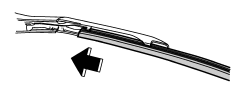 3. Align the claws of the support with the grooves in the rubber and slide the blade rubber assembly into the support until it locks.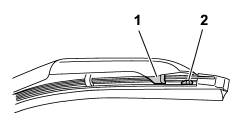 1) Claw
2) Stopper
4. Be sure to position the claws at the end of the support between the stoppers on the rubber as shown. If the rubber is not retained properly, the wiper blade may scratch the windshield.
See also:
Bottle holders
CAUTION ● Do not pick up a bottle from the bottle holder or put a bottle in the holder while you are driving, as this may distract you and lead to an accident. ● When placing a beverag ...
Audio control buttons (if equipped)
These buttons are located on the spokes of the steering wheel. They allow the driver to control audio functions without taking his/her hands off the steering wheel. ...
Towing and tie-down hooks
The towing hooks should be used only in an emergency (e.g., to free a stuck vehicle from mud, sand or snow). - Use only the specified towing hook and tie-down hook. Never use suspension p ...