Windshield wiper blade rubber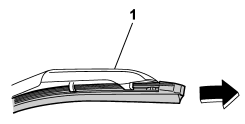 1) Support
1. Grasp the locked end of the blade rubber assembly and pull it firmly until the stoppers on the rubber are free of the support.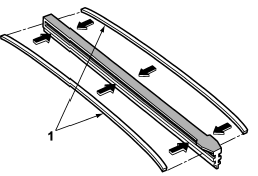 1) Metal spines
2. If the new blade rubber is not provided with two metal spines, remove the metal spines from the old blade rubber and install them in the new blade rubber.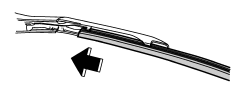 3. Align the claws of the support with the grooves in the rubber and slide the blade rubber assembly into the support until it locks.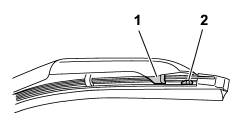 1) Claw
2) Stopper
4. Be sure to position the claws at the end of the support between the stoppers on the rubber as shown. If the rubber is not retained properly, the wiper blade may scratch the windshield.
See also:
Replacing an air filter
1. Remove the glove box. (1) Open the glove box. (2) Remove the damper shaft from the glove box. (3) Pull out the glove box. 2. Remove the cover of the air filter. 3. Remove the air filte ...
When checking or servicing in the engine compartment
Do not contact the belt cover while checking the components in the engine compartment. Doing so may cause your hand to slip off the belt cover and result in an unexpected injury. ...
Replacing bulbs
Bulbs may become very hot while illuminated. Before replacing bulbs, turn off the lights and wait until the bulbs cool down. Otherwise, there is a risk of sustaining a burn injury. Replace an ...