Checking the oil level
AT models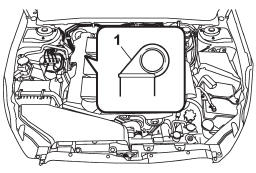 1) Yellow handle
1. Park the vehicle on a level surface and stop the engine.
2. Pull out the level gauge, wipe it clean, and insert it again.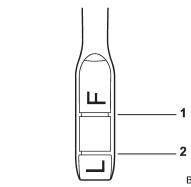 1) Upper level
2) Lower level
3. Pull out the level gauge again and check the oil level on it. If it is below the lower level, add oil to bring the level up to the upper level.
CAUTION
Be careful not to spill front differential gear oil when adding it. If oil touches the exhaust pipe, it may cause a bad smell, smoke, and/or a fire. If oil gets on the exhaust pipe, be sure to wipe it off.
See also:
Brake pad and lining
While maintaining a speed of 30 to 40 mph (50 to 65 km/h), step on the brake pedal lightly. Repeat this five or more times. ...
Parking brake warning
The light illuminates with the parking brake applied while the ignition switch is in the "ON" position. It turns off when the parking brake is released. ...
Cleaning ventilation grille
Cleaning ventilation grille Always keep the front ventilation inlet grille free of snow, leaves, or other obstructions to ensure efficient heating and defrosting. Since the condenser is locate ...