Checking the oil level
AT models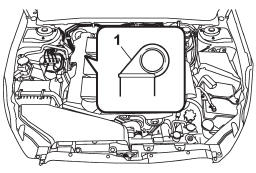 1) Yellow handle
1. Park the vehicle on a level surface and stop the engine.
2. Pull out the level gauge, wipe it clean, and insert it again.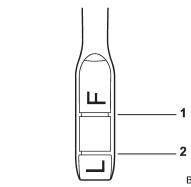 1) Upper level
2) Lower level
3. Pull out the level gauge again and check the oil level on it. If it is below the lower level, add oil to bring the level up to the upper level.
CAUTION
Be careful not to spill front differential gear oil when adding it. If oil touches the exhaust pipe, it may cause a bad smell, smoke, and/or a fire. If oil gets on the exhaust pipe, be sure to wipe it off.
See also:
Tire inspection
Check on a daily basis that the tires are free from serious damage, nails, and stones. At the same time, check the tires for abnormal wear. Contact your SUBARU dealer immediately if you find any pr ...
Two separate circuits
Your vehicle has a dual circuit brake system. Each circuit works diagonally across the vehicle. If one circuit of the brake system should fail, the other half of the system still works. If one cir ...
Repeating
Type A audio Type B audio To repeat a track/file (track), briefly press the УRPT/RDMФ button (type A audio) or УRPTФ button (type B audio) while the track/file (track) is playing. Each time y ...