2.5 L non-turbo models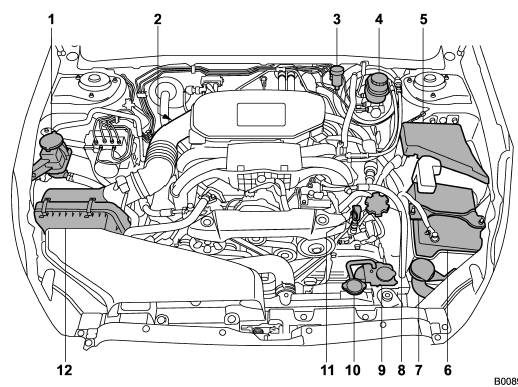 1) Power steering fluid reservoir (page 11-27) 2) Manual transmission oil level gauge (MT) (page 11-23) 3) Clutch fluid reservoir (page 11-29) 4) Brake fluid reservoir (page 11-28) 5) Fuse box (page 11-46) 6) Battery (page 11-45)
7) Windshield washer tank (page 11-40) 8) Engine oil filler cap (page 11-12) 9) Engine coolant reservoir (page 11-17) 10) Radiator cap (page 11-17) 11) Engine oil level gauge (page 11-12) 12) Air cleaner case (page 11-19)
See also:
Activating and deactivating the alarm system
To change the setting of your vehicle's alarm system for activation or deactivation, do the following. 1. Disarm the alarm system. Refer to "Disarming the system". 2. Sit in the driver's seat and sh ...
LOCK
The key can only be inserted or removed in this position. The ignition switch will lock the steering wheel when you remove the key. If turning the key is difficult, turn the steering wheel slightly t ...
Driving on grades
● Before going down a steep hill, slow down and shift into lower gear (if necessary, use 1st gear) in order to utilize the overheating of your vehicle's brakes. Do not make sudden downshifts ...