Using a flat-bed truck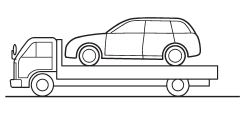 This is the best way to transport your vehicle. Use the following procedures to ensure safe transportation.
1. Shift the select lever into the УPФ position for AT and CVT models or the shift lever into У1stФ for MT models.
2. Apply the parking brake.
3. Secure the vehicle onto the carrier properly with safety chains. Each safety chain should be equally tightened and care must be taken not to pull the chains so tightly that the suspension bottoms out.
See also:
Shock sensors (dealer option)
The shock sensors trigger the alarm system when they sense impacts applied to the vehicle and when any of their electric wires are cut. The alarm system causes the horn to sound and the turn ...
Driving with a trailer
● You should allow for considerably more stopping distance when towing a trailer. Avoid sudden braking because it may result in skidding or jackknifing and loss of control. ● Avoid ab ...
Driving tips
● On a road surface where there is a risk of wheelspin (for example, a snow- or gravel-covered road), you can pull away from a standstill safely and easily by first selecting the 2nd gear of ...