Towing
WARNING
Never tow AWD vehicles (including AT, MT and CVT) with the front wheels raised off the ground while the rear wheels are on the ground, or with the rear wheels raised off the ground while the front wheels are on the ground. This will cause the vehicle to spin away due to the operation or deterioration of the center differential.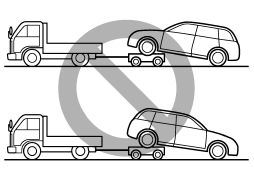 If towing is necessary, it is best done by your SUBARU dealer or a commercial towing service. Observe the following procedures for safety.
See also:
Checking the brake pedal free play
1) 0.02 – 0.08 in (0.5 – 2.0 mm) Stop the engine and firmly depress the brake pedal several times. Lightly pull the brake pedal up with one finger to check the free play with a force of less ...
Refueling in cold weather
To help prevent moisture from forming in the fuel system and the risk of its freezing, use of an antifreeze additive in the fuel tank is recommended during cold weather. Use only additives that are s ...
Air conditioner button
The air conditioner operates only when the engine is running. Press the air conditioner button while the fan is in operation to turn on the air conditioner. The indicator light will illuminate. ...