Total trailer weight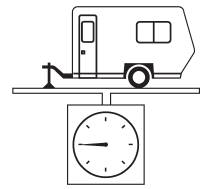 Total trailer weight
The total trailer weight (trailer weight plus its cargo load) must never exceed the maximum weight.
Legacy
The total trailer weight must not exceed 1,000 lbs (453 kg).
Outback
The maximum total trailer weight is indicated in the following tables.


See also:
Driving tips
- On a road surface where there is a risk of wheelspin (for example, a snow- or gravel-covered road), you can pull away from a standstill (safely and easily) by first selecting the 2nd gear of ...
Backward direction
Turn the "TUNE/TRACK/CH" dial counterclockwise to skip to the beginning of the current track/file (track). Each time the dial is turned, the indicated track/file (track) number will decrease. N ...
Brake system warning light
- Driving with the brake system warning light on is dangerous. This indicates your brake system may not be working properly. If the light remains illuminated, have the brakes inspecte ...