GVWR and GAWR (Gross Vehicle Weight Rating and Gross Axle Weight Rating)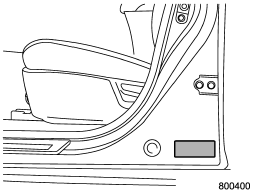 Certification label
The certification label attached to the driver's side door shows GVWR (Gross Vehicle Weight Rating) and GAWR (Gross Axle Weight Rating).
The GVW (Gross Vehicle Weight) must never exceed the GVWR. GVW is the combined total of weight of the vehicle, fuel, driver, all passengers, luggage, any optional equipment and trailer tongue load. Therefore, the GVW changes depending on the situation.
In addition, the total weight applied to each axle (GAW) must never exceed the GAWR. The front and rear GAWs can be adjusted by relocating luggage inside the vehicle.
Even if the total weight of your luggage is lower than the vehicle capacity weight, either front or rear GAW may exceed the GAWR, depending on the distribution of the luggage.
When possible, the load should be evenly distributed throughout the vehicle. If you carry heavy loads in the vehicle, you should confirm that GVW and front and rear GAWs are within the GVWR and GAWR by putting your vehicle on a vehicle scale, found at a commercial weighing station.
Do not use replacement tires with a lower load range than the originals because they may lower the GVWR and GAWR limitations. Replacement tires with a higher load range than the originals do not increase the GVWR and GAWR limitations.
See also:
Replacing the battery
CAUTION ● Do not let dust, oil or water get on or in the transmitter when replacing the battery. ● Be careful not to damage the printed circuit board in the transmitter when replacing ...
Front fog light (if equipped)
NOTE It may be difficult to replace the bulbs. Have the bulbs replaced by your SUBARU dealer if necessary. Type A Type B 1. Remove the clips. 2. Turn over the mud guard. 3. Disconnect the ele ...
Trailer lights
CAUTION Direct splicing or other improper connection of trailer lights may damage your vehicle's electrical system and cause a malfunction of your vehicle's lighting system. Connection of trailer ...