Parking tips
When parking your vehicle, always perform the following items.
● Apply the parking brake.
● For MT models, put the shift lever in the "1" (1st) for upgrade or "R" (Reverse) for a downgrade.
● For AT and CVT models, put the select lever in the "P" (Park) position. Never rely on the transmission alone to hold the vehicle.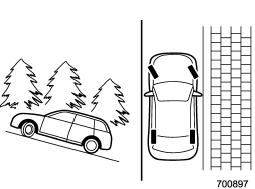 When parking on a hill, always turn the steering wheel as described here. When the vehicle is headed up the hill, the front wheels should be turned away from the curb.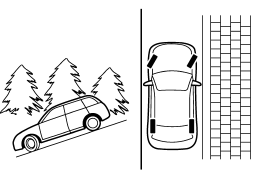 When facing downhill, the front wheels should be turned into the curb.
See also:
Key lock-in prevention function
This function prevents the doors from being locked with the key still in the ignition switch. ...
System operation
The alarm system will give the following alarms when triggered. - The vehicle's horn will sound for 30 seconds. - The turn signal lights will flash for 30 seconds. If any of the doors or the ...
Select lever
: Shifting is possible with the brake pedal depressed. : Shifting is possible whether the brake pedal is depressed or not. However, while the ignition switch is in the "LOCK" or ...