Shift lock release using the shift lock release button
Perform the following procedure to release the shift lock.
1. Apply the parking brake and stop the engine.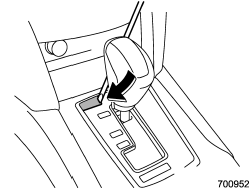 2. Remove the shift lock cover using a flat-head screwdriver.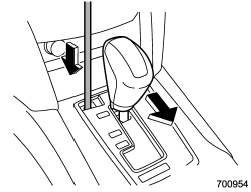 3. While depressing the brake pedal, insert the electronic parking brake release tool into the hole, press the shift lock release button using the tool, and then move the select lever.
NOTE
To prevent damage to the shift lock cover, cover the tip of the flat-head screwdriver with vinyl tape or a cloth before removing the cover.
If the select lever does not move after performing the above procedure, the shift lock system may be malfunctioning. Contact a SUBARU dealer for an inspection as soon as possible.
See also:
To use as semi-automatic climate control system
Each function can be individually set to AUTO mode independently of the others. Any function set to AUTO mode is controlled automatically. Any function not set to AUTO mode can be manually adjusted a ...
Low beam light bulbs
Right-hand side 1. Use a screwdriver to undo the clips on the air intake duct, then remove the air intake duct (right-hand side). Left-hand side 2. Use a screwdriver to remove the secured clip of t ...
If no steam is coming from the engine compartment
NOTE For details about how to check the coolant level or how to add coolant, refer to "Engine coolant" 1. Keep the engine running at idling speed. 2. Open the hood to ventilate the engine compartme ...