Shift lock release using the shift lock release button
Perform the following procedure to release the shift lock.
1. Apply the parking brake and stop the engine.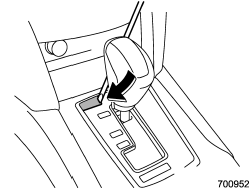 2. Remove the shift lock cover using a flat-head screwdriver.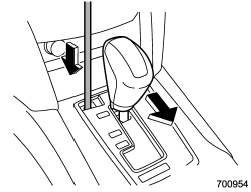 3. While depressing the brake pedal, insert the electronic parking brake release tool into the hole, press the shift lock release button using the tool, and then move the select lever.
NOTE
To prevent damage to the shift lock cover, cover the tip of the flat-head screwdriver with vinyl tape or a cloth before removing the cover.
If the select lever does not move after performing the above procedure, the shift lock system may be malfunctioning. Contact a SUBARU dealer for an inspection as soon as possible.
See also:
Refueling in cold weather
To help prevent moisture from forming in the fuel system and the risk of its freezing, use of an antifreeze additive in the fuel tank is recommended during cold weather. Use only additives that ...
Steps for Determining Correct Load Limit
1. Locate the statement "The combined weight of occupants and cargo should never exceed XXX pounds" on your vehicle's placard. 2. Determine the combined weight of the driver and passengers th ...
Selecting audible signal operation
Using an electronic chirp, the system will give you an audible signal when the doors lock and unlock. If desired, you may turn the audible signal off. To deactivate the audible signal, perform the ...