Selecting reverse gear
CAUTION
Shift into reverse ONLY when the vehicle has completely stopped. It may cause damage to the transmission to try shifting into reverse when the vehicle is moving.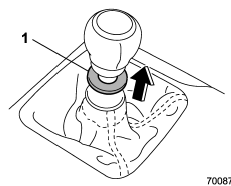 1) Slider
You must raise the slider and hold it in that position before you can move the shift lever to the "R" position.
To change gears, fully depress the clutch pedal, move the shift lever, and gradually let up on the clutch pedal.
If it is difficult to shift into gear, put the transmission in neutral, release the clutch pedal momentarily, and then try again.
See also:
Summer tires
The factory-installed tires on your new 2.5 L turbo models are summer tires. Summer tires are high-speed capability tires best suited for highway driving under dry conditions. Summer tires are in ...
Calculating total and load capacities varying seating configurations
Calculate the available load capacity as shown in the following examples: Example 1A Vehicle capacity weight of the vehicle is 800 lbs (363 kg), which is indicated on the vehicle placard with th ...
All-Wheel Drive warning light (AT models)
This light illuminates when All-Wheel Drive is disengaged and the drive mechanism is switched to Front Wheel Drive for maintenance or similar purposes. It flashes if the vehicle is driven with tire ...