Selecting reverse gear
CAUTION
Shift into reverse ONLY when the vehicle has completely stopped. It may cause damage to the transmission to try shifting into reverse when the vehicle is moving.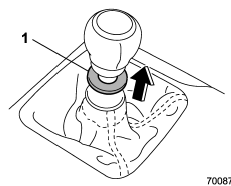 1) Slider
You must raise the slider and hold it in that position before you can move the shift lever to the "R" position.
To change gears, fully depress the clutch pedal, move the shift lever, and gradually let up on the clutch pedal.
If it is difficult to shift into gear, put the transmission in neutral, release the clutch pedal momentarily, and then try again.
See also:
Wear indicators
1) New tread 2) Worn tread 3) Tread wear indicator Each tire incorporates a tread wear indicator, which becomes visible when the depth of the tread grooves decreases to 0.063 in (1.6 mm). ...
Arming the system
In passive mode, the system will automatically activate the alarm but WILL NOT automatically lock the doors. In order to lock the doors you must either lock them as indicated in step 4 b ...
Adjustable level of each mode
*: For type A and B audio, AUX volume can be adjusted only when an AUX audio product is connected. ...