Selecting reverse gear
CAUTION
Shift into reverse ONLY when the vehicle has completely stopped. It may cause damage to the transmission to try shifting into reverse when the vehicle is moving.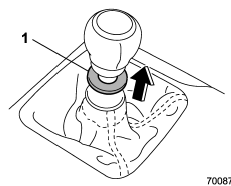 1) Slider
You must raise the slider and hold it in that position before you can move the shift lever to the "R" position.
To change gears, fully depress the clutch pedal, move the shift lever, and gradually let up on the clutch pedal.
If it is difficult to shift into gear, put the transmission in neutral, release the clutch pedal momentarily, and then try again.
See also:
Ride & Handling
The Outback shines in terms of ride comfort. It's surprisingly tame and confident at 70 mph and higher, and it definitely feels like a car rather than an SUV. Its wagon style doesn't harm the Outb ...
MT models
1. Apply the parking brake. 2. Turn off unnecessary lights and accessories. 3. Press the clutch pedal to the floor and shift the shift lever into neutral. Hold the clutch pedal to the floor whil ...
Locking and unlocking from the inside
1) Lock 2) Unlock To lock the door from the inside, rotate the lock lever rearward. To unlock the door from the inside, rotate the lock lever forward. The red mark on the lock lever appears when ...