Sliding moonroof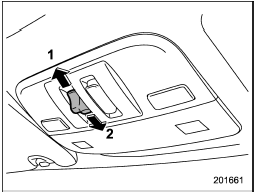 Sliding moonroof
1) Open
2) Close
Push the "OPEN/CLOSE" switch rearward to open the moonroof. The sun shade will also be opened together with the moonroof.
Push the "OPEN/CLOSE" switch forward to close the moonroof.
To stop the moonroof at a selected midway position while opening or closing it, momentarily push the switch to the "OPEN" side or "CLOSE" side.
After washing the vehicle or after it rains, wipe away water on the roof prior to opening the moonroof to prevent drops of water from falling into the passenger compartment.
See also:
Unfastening the seatbelt
Unfastening the seatbelt Push the release button of the center seatbelt buckle (on the left-hand side) to unfasten the seatbelt. NOTE When the seatback is folded down for greater cargo are ...
Tire size
Your vehicle comes equipped with P-Metric tire size. It is important to understand the sizing system in selecting the proper tire for your vehicles. Here is a brief review of the tire sizing syste ...
Registering from call back
1. Select the "CALL BACK" menu. 2. Select the phone number by operating the "TUNE/TRACK/CH" dial. 3. Select the "STORE" menu. 4. Select the "CONFIRM" menu. 5. Select the "RECORD NAME" menu by ...