Sliding moonroof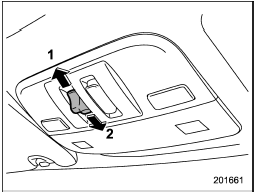 Sliding moonroof
1) Open
2) Close
Push the "OPEN/CLOSE" switch rearward to open the moonroof. The sun shade will also be opened together with the moonroof.
Push the "OPEN/CLOSE" switch forward to close the moonroof.
To stop the moonroof at a selected midway position while opening or closing it, momentarily push the switch to the "OPEN" side or "CLOSE" side.
After washing the vehicle or after it rains, wipe away water on the roof prior to opening the moonroof to prevent drops of water from falling into the passenger compartment.
See also:
Exciting drive
The 2.5-liter, four-cylinder turbocharged engine may also play a role in injecting "go-fast" into your blood. The engine creates 265 horsepower and 244 pound-feet of torque, which for a ...
Turn signal indicator lights
These lights show the operation of the turn signal or lane change signal. If the indicator lights do not blink or blink rapidly, the turn signal bulb may be burned out. Replace the bulb as soon a ...
Tire pressures and wear
Maintaining the correct tire pressures helps to maximize the tires' service lives and is essential for good running performance. Check and, if necessary, adjust the pressure of each tire (inclu ...