Sliding moonroof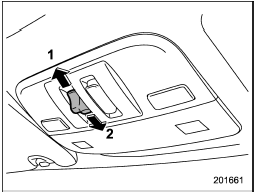 Sliding moonroof
1) Open
2) Close
Push the "OPEN/CLOSE" switch rearward to open the moonroof. The sun shade will also be opened together with the moonroof.
Push the "OPEN/CLOSE" switch forward to close the moonroof.
To stop the moonroof at a selected midway position while opening or closing it, momentarily push the switch to the "OPEN" side or "CLOSE" side.
After washing the vehicle or after it rains, wipe away water on the roof prior to opening the moonroof to prevent drops of water from falling into the passenger compartment.
See also:
Select lever
: Shifting is possible with the brake pedal depressed. : Shifting is possible whether the brake pedal is depressed or not. However, while the ignition switch is in the "LOCK" or "Acc" positio ...
Checking the oil level
Non-turbo models 1) Yellow handle Turbo models 1) Yellow handle Check the oil level monthly. 1. Park the vehicle on a level surface and stop the engine. 2. Pull out the level gauge, wipe it ...
Type A, B and C audio
If the PS (Program Service Name) and/or RT (Radio Text) are available, pressing the "TEXT" button changes the display among PS, RT and frequency. The default setting is "PS". NOTE - The max ...