Sliding moonroof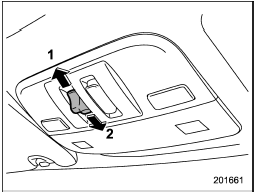 Sliding moonroof
1) Open
2) Close
Push the "OPEN/CLOSE" switch rearward to open the moonroof. The sun shade will also be opened together with the moonroof.
Push the "OPEN/CLOSE" switch forward to close the moonroof.
To stop the moonroof at a selected midway position while opening or closing it, momentarily push the switch to the "OPEN" side or "CLOSE" side.
After washing the vehicle or after it rains, wipe away water on the roof prior to opening the moonroof to prevent drops of water from falling into the passenger compartment.
See also:
System alarm operation
The alarm system will give the following alarms when triggered: ● The vehicle's horn will sound and the turn signal lights will flash for 30 seconds. ● If any door (or the rear gate/tr ...
Forward and backward adjustment
Pull the lever upward and slide the seat to the desired position. Then release the lever and try to move the seat back and forth to make sure that it is securely locked into place. ...
Trailer brakes
WARNING ● Adequate size trailer brakes are required when the trailer and its cargo exceed 1,000 lbs (453 kg) total weight. ● Do not directly connect your trailer's hydraulic brake syst ...