Under-floor storage compartment
The subfloor storage compartment is located under the floor of the trunk or cargo area and can be used to store small items. To open the lid, pull the tab or handle up.
NOTE
When storing a flat tire, put the subfloor storage in the trunk or cargo area.
CAUTION
● Always keep the lid of the subfloor storage compartment closed while driving to reduce the risk of injury in the event of sudden stop or an accident.
● Do not store spray cans, containers with flammable or corrosive liquids or any other dangerous items in the subfloor storage compartment.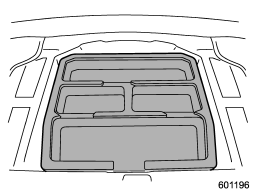 Legacy
See also:
Driving tips
- On a road surface where there is a risk of wheelspin (for example, a snow- or gravel-covered road), you can pull away from a standstill (safely and easily) by first selecting the 2nd gear of ...
For U.S.A
The following information has been compiled according to Code of Federal Regulations "Title 49, Part 575". ...
Foreword
Congratulations on choosing a SUBARU vehicle. This Owner's Manual has all the information necessary to keep your SUBARU in excellent condition and to properly maintain the emission control syste ...