Under-floor storage compartment
The subfloor storage compartment is located under the floor of the trunk or cargo area and can be used to store small items. To open the lid, pull the tab or handle up.
NOTE
When storing a flat tire, put the subfloor storage in the trunk or cargo area.
CAUTION
● Always keep the lid of the subfloor storage compartment closed while driving to reduce the risk of injury in the event of sudden stop or an accident.
● Do not store spray cans, containers with flammable or corrosive liquids or any other dangerous items in the subfloor storage compartment.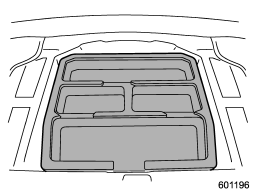 Legacy
See also:
Remote transmitter program
New transmitters can be programmed to the remote engine start system in the event that a transmitter is lost, stolen, damaged or additional transmitters are desired (the system will accept up to e ...
Key replacement
Your key number plate and security ID plate will be required if you ever need a replacement key made. Any new key must be registered for use with your vehicle's immobilizer system before it can be ...
Tire Identification Number (TIN)
Tire Identification Number (TIN) is marked on the intended outboard sidewall. The TIN is composed of four groups. Here is a brief review of the TIN with a breakdown of its individual elements. (1) ...