Under-floor storage compartment
The subfloor storage compartment is located under the floor of the trunk or cargo area and can be used to store small items. To open the lid, pull the tab or handle up.
NOTE
When storing a flat tire, put the subfloor storage in the trunk or cargo area.
CAUTION
● Always keep the lid of the subfloor storage compartment closed while driving to reduce the risk of injury in the event of sudden stop or an accident.
● Do not store spray cans, containers with flammable or corrosive liquids or any other dangerous items in the subfloor storage compartment.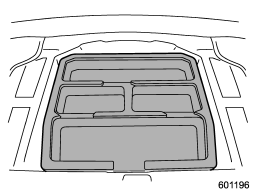 Legacy
See also:
Parking brake
To set the parking brake, depress the brake pedal firmly and hold it down until the parking brake lever is fully pulled up. To release the parking brake, pull the lever up slightly, press t ...
Exterior
1) Engine hood lock release (page 11-7) 2) Headlight switch (page 3-28) 3) Bulb replacement (page 11-48) 4) Wiper switch (page 3-32) 5) Moonroof (page 2-28) 6) Roof rail (page 8-14) 7) Door lo ...
Side mirrors
Side mirrors After hitching a trailer to your vehicle, check that the standard side mirrors provide a good rearward field of view without significant blind spots. If significant blind spo ...