Under-floor storage compartment
The subfloor storage compartment is located under the floor of the trunk or cargo area and can be used to store small items. To open the lid, pull the tab or handle up.
NOTE
When storing a flat tire, put the subfloor storage in the trunk or cargo area.
CAUTION
● Always keep the lid of the subfloor storage compartment closed while driving to reduce the risk of injury in the event of sudden stop or an accident.
● Do not store spray cans, containers with flammable or corrosive liquids or any other dangerous items in the subfloor storage compartment.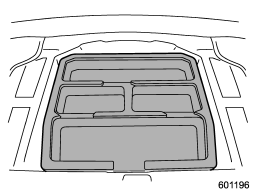 Legacy
See also:
Unfastening the seatbelt
Unfastening the seatbelt Push the release button of the center seatbelt buckle (on the left-hand side) to unfasten the seatbelt. NOTE When the seatback is folded down for greater cargo are ...
Recommended brake fluid
CAUTION Never use different brands of brake fluid together. Also, avoid mixing DOT 3 and DOT 4 brake fluids even if they are the same brand. ...
Using a warm water washer
● Keep a good distance of 12 in (30 cm) or more between the washer nozzle and the vehicle. ● Do not wash the same area continuously. ● If a stain will not come out easily, wash b ...