Using the cover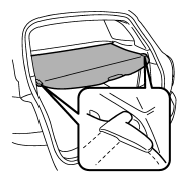 To extend the cover, pull the end of the cover out of the housing, then insert its hooks into the catches as shown. To rewind it, unhook it from the catches and it will rewind automatically. You should hold on to the cover and guide it back into the cover housing while it is rewinding.
WARNING
Do not place anything on the extended cover. Putting excessive weight on the extended cover can break it and an object on the cover could tumble forward in the event of a sudden stop or collision. This could cause serious injury.
CAUTION
● Be careful not to scratch the rear gate stays while extending and rewinding the cover. Scratches on the stays could cause leakage of gas from the stays, which may result in their inability to hold the rear gate open.
● When reclining the rear seatback, move the front cover backward so that the cover is not damaged.
See also:
Head restraint adjustment
Both the rear window side seats and the rear center seat are equipped with head restraints. WARNING ● Never drive the vehicle with the head restraints removed because they are designed to ...
Installing a booster seat
WARNING ● Child restraint systems and seatbelts can become hot in a vehicle that has been closed up in sunny weather; they could burn a small child. Check the child restraint system before ...
Using a warm water washer
- Keep a good distance of 12 in (30 cm) or more between the washer nozzle and the vehicle. - Do not wash the same area continuously. - If a stain will not come out easily, wash by hand. Some w ...