Bottle holders
CAUTION
● Do not pick up a bottle from the bottle holder or put a bottle in the holder while you are driving, as this may distract you and lead to an accident.
● When placing a beverage in a door pocket, make sure it is capped. Otherwise, the beverage could spill when opening/closing the door or while driving and, if the beverage is hot, it could scald you.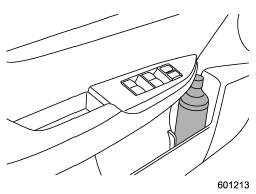 The door pocket equipped on each door trim can be used to hold beverage bottles and other items.
See also:
Modification of your vehicle
Your vehicle should not be modified other than with genuine SUBARU parts and accessories. Other types of modifications could affect its performance, safety or durability, and may even vi ...
Checking the coolant level
Never attempt to remove the radiator cap until the engine has been shut off and has cooled down completely. Since the coolant is under pressure, you may suffer serious burns from a spray of boilin ...
Compass zone adjustment
Compass calibration zones 1. Refer to the "Compass calibration zones" map shown above to verify that the compass zone setting is correct for your geographical location. 2. Press and hold the swi ...