Overhead console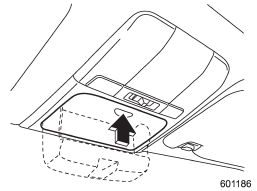 To open the console, push on the lid lightly and it will automatically open.
CAUTION
When your vehicle is parked in the sun or on a warm day, the inside of the overhead console heats up. Avoid storing plastic or other heatvulnerable or flammable articles such as a lighter in the overhead console.
See also:
Ride & Handling
My first drive of the 2012 Impreza was on dry, warm pavement, where both the 16- and 17-inch alloy wheels lent a comfortable ride. (I didn't drive the base 15-inch steel wheels.) You're always awa ...
Inside
The interior's design has aged well over the years, with a smooth, curvy flow that wraps around front passengers. That's quite the feat considering it's essentially the same design used when this ...
Safety symbol
You will find a circle with a slash through it in this manual. This symbol means"Do not", "Do not do this", or"Do not let this happen", depending upon the context. ...