Glove box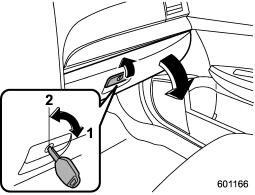 1) Lock
2) Unlock
To open the glove box, pull the handle. To close it, push the lid firmly upward.
To lock the glove box, insert the key and turn it clockwise. To unlock the glove box, insert the key and turn it counterclockwise.
See also:
Braking tips
WARNING Never rest your foot on the brake pedal while driving. This can cause dangerous overheating of the brakes and needless wear on the brake pads and linings. ...
Seatbelt maintenance
To clean the seatbelts, use a mild soap and lukewarm water. Never bleach or dye the belts because this could seriously affect their strength. Inspect the seatbelts and attachments including the web ...
Ignition switch light
For easy access to the ignition switch in the dark, the ignition switch light illuminates when driver's door is opened or when the driver's door is unlocked using the remote keyless entry transmit ...