Sun visor extension plate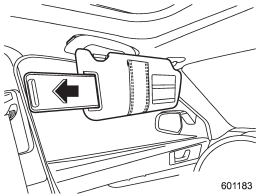 With the sun visor positioned over the side window, you can use the sun visor extension plate to prevent glare through the gap between the sun visor and center pillar. To use the extension plate, pull it toward the rear of the vehicle. When you have finished using it, stow it by pushing it toward the front of the vehicle.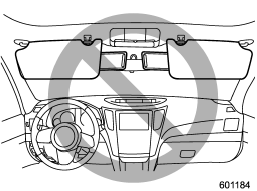 CAUTION
Do not pull out the extension plate with the sun visor positioned over the windshield. The extension plate would obstruct your view of the rearview mirror.
See also:
Wear indicators
1) New tread 2) Worn tread 3) Tread wear indicator Each tire incorporates a tread wear indicator, which becomes visible when the depth of the tread grooves decreases to 0.063 in (1.6 mm). A tire ...
Preset buttons
How to preset channels 1. Press the "SAT" button to select SAT1, SAT2 and SAT3 reception. 2. Select the desired channel. 3. Press one of the preset buttons for more than 1.5 seconds to store the ch ...
Cooling and dehumidifying in high humidity and low temperature weather condition
Under certain weather conditions (high relative humidity, low temperatures, etc.) a small amount of water vapor emission from the air outlets may be noticed. This condition is normal and does not ...