Connectable iPod® models Type C audio: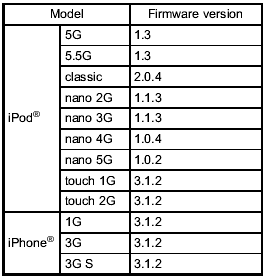 Type D audio: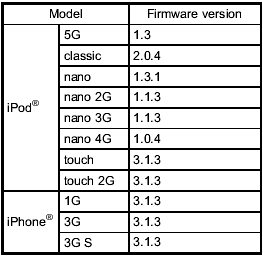 Do not connect an iPod® other than the previously stated models. Doing so may result in a malfunction or, depending on conditions, cause a fire.
NOTE
- iPod® is a registered trademark of Apple Inc.
- You are only permitted to personally copy and play copyright-free material or material that is legally permitted to be copied and played by using an iPod® and iTunes. Copyright infringement is prohibited by law.
- To check the firmware version of an iPod®, connect it to a computer and check the device manager. For further information, see the User's Guide that comes with the iPod® - To update the firmware version of an iPod®, visit the Apple Inc. website.
- Depending on the model and firmware version of an iPod®, it may not work properly or not operate at all.
See also:
Low beam light bulbs
Right-hand side 1. Use a screwdriver to undo the clips on the air intake duct, then remove the air intake duct (right-hand side). Left-hand side 2. Use a screwdriver to remove the secured ...
Defroster button
To defrost or dehumidify the windshield and front door windows, press the defroster button "". When the "" button is pressed, the air conditioner compressor automatically operates to quickly ...
Offroad Chops
The offroad portion of Subaru's press drive consisted of a lengthy course on California's Catalina Island, and I had a chance to tackle some fairly demolished dirt roads. I imagine a tiny fraction ...