Volume control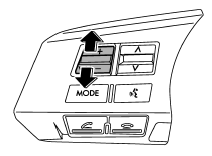 You can adjust the phone call volume, the voice volume and the voice guidance volume. Refer to "Volume control switch" F5-32.
Adjustable level of each volume

See also:
Stopping the engine
The ignition switch should be turned off only when the vehicle is stopped and the engine is idling. Do not stop the engine when the vehicle is moving. This will cause loss of power to the power s ...
SPEED VOLUME setting
SPEED VOLUME CONTROL is a function that automatically adjusts the volume according to the vehicle speed. As the vehicle speed increases, the audio volume automatically increases to match the vehicle s ...
Delivering superior crash safety protection
Using the advanced ring-shaped reinforcements throughout the Subaru Outback bodyshell enhances collision safety and resistance to impacts from all directions. In addition, the newly adopted sub-fr ...