Scan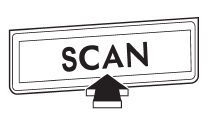 The scan mode lets you listen to the first 10 seconds of each track/file in succession. Press the "SCAN" button to start scanning upward beginning with the track/ file(s) following the currently selected one. After all track/file(s) in the disk/folder have been scanned, normal playback will be resumed. To cancel the scan mode, press the "SCAN" button again.
NOTE
The scan mode will be cancelled if you perform any of the following steps.
● Press the "RPT" button ● Press the "RDM" button ● Press the "RPT/RDM" button ● Turn the "TUNE/TRACK/CH" dial ● Press the "

" or "

"
side of the "FOLDER" button ● Press the "

" button
● Press the "

" or "
"
side of the "SEEK" button ● Press the disc select button ● Select the radio or AUX mode ● Press the "LOAD" button when there is free space in the CD magazine ● Turn off the power of the audio equipment
● Turn the ignition switch to the "LOCK" position
See also:
Audio set
Your SUBARU may be equipped with one of the following audio sets. See the pages indicated in this section for operating details. NOTE If a cell phone is placed near the audio set, it may cause the ...
Difference between screen and actual road
The distance markers show the distance for a level road when the vehicle is not loaded. It may be different from the actual distance depending on the loading conditions or road conditions. When t ...
Battery
WARNING ● Before beginning work on or near any battery, be sure to extinguish all cigarettes, matches, and lighters. Never expose a battery to an open flame or electric sparks. Batteries gi ...