Scan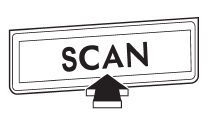 The scan mode lets you listen to the first 10 seconds of each track/file in succession. Press the "SCAN" button to start scanning upward beginning with the track/ file(s) following the currently selected one. After all track/file(s) in the disk/folder have been scanned, normal playback will be resumed. To cancel the scan mode, press the "SCAN" button again.
NOTE
The scan mode will be cancelled if you perform any of the following steps.
● Press the "RPT" button ● Press the "RDM" button ● Press the "RPT/RDM" button ● Turn the "TUNE/TRACK/CH" dial ● Press the "

" or "

"
side of the "FOLDER" button ● Press the "

" button
● Press the "

" or "
"
side of the "SEEK" button ● Press the disc select button ● Select the radio or AUX mode ● Press the "LOAD" button when there is free space in the CD magazine ● Turn off the power of the audio equipment
● Turn the ignition switch to the "LOCK" position
See also:
Fan speed control dial
The fan operates only when the ignition switch is turned to the "ON" position. The fan speed control dial is used to select four fan speeds. ...
Unleaded gasoline
The neck of the fuel filler pipe is designed to accept only an unleaded gasoline filler nozzle. Under no circumstances should leaded gasoline be used because it will damage the emission control sy ...
2.0-L DOHC Turbo engine
A newly developed DOHC cylinder head is used in this engine. The intake port and the combustion chamber have been redesigned to reduce residual gasses, thus raising combustion efficiency. By usi ...