Cleaning ventilator grille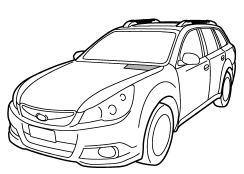 Always keep the front ventilator inlet grille free of snow, leaves, or other obstructions to ensure efficient heating and defrosting. Since the condenser is located in front of the radiator, this area should be kept clean because cooling performance is impaired by any accumulation of insects and leaves on the condenser.
See also:
Climate control panel, audio panel, instrument panel, console panel, and switches
Use a soft, damp cloth to clean the climate control panel, audio equipment, instrument panel, center console, combination meter panel, and switches. NOTE Do not use organic solvents such as paint th ...
Calculating total and load capacities varying seating configurations
Calculate the available load capacity as shown in the following examples: Example 1A Vehicle capacity weight of the vehicle is 900 lbs (408 kg), which is indicated on the vehicle placard with the ...
Driving on grades
- Before going down a steep hill, slow down and shift into lower gear (if necessary, use 1st gear) in order to utilize the engine braking effect and prevent overheating of your vehicle's brake ...