Compass zone adjustment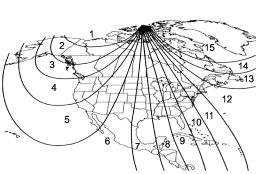 Compass calibration zones
1. Refer to the "Compass calibration zones" map shown above to verify that the compass zone setting is correct for your geographical location.
2. Press and hold the switch for 6 seconds until the zone selection comes up (a number will be displayed in the mirror compass window).
3. Press the switch repeatedly until the correct zone setting for your location is displayed.
4. Releasing the button for 10 seconds will exit the zone setting mode.
See also:
Fuel octane rating
This octane rating is the average of the Research Octane and Motor Octane numbers and is commonly referred to as the Anti Knock Index (AKI). Using a gasoline with a lower octane rating can ca ...
Other markings
The following makings are also placed on the sidewall. Maximum permissible inflation pressure The maximum cold inflation pressure to which this tire may be inflated. For example, "350 kPa (51 PSI) ...
Towing
If towing is necessary, it is best done by your SUBARU dealer or a commercial towing service. Observe the following procedures for safety. Never tow AWD models (both AT and MT) with the front w ...