Illumination brightness control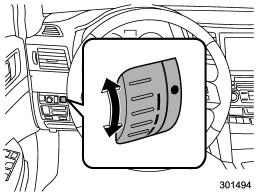 The illumination brightness of the clock display, audio, air conditioner, multi function display and meter/gauge dims under the following conditions.
● when the light switch is in the " " or " " position
● when the light switch is in the "AUTO" position and the headlights illuminate automatically
You can adjust the illumination brightness for better visibility.
To brighten, turn the control dial upward.
To darken, turn the control dial downward.
NOTE
● When the control dial is turned fully upward, the illumination brightness becomes the maximum and the automatic dimming function does not work at all.
● The brightness setting is not canceled even when the ignition switch is turned to the "LOCK" position.
See also:
Determining compatibility of tire and vehicle load capacities
The sum of four tires' maximum load ratings must exceed the maximum loaded vehicle weight ("GVWR"). In addition, sum of the maximum load ratings of two front tires and of two rear tires must excee ...
Parking on a grade
Always block the wheels under both vehicle and trailer when parking. Apply the parking brake. You should not park on a hill or slope. But if parking on a hill or slope cannot be avoided, you shoul ...
Ride & Handling
My first drive of the 2012 Impreza was on dry, warm pavement, where both the 16- and 17-inch alloy wheels lent a comfortable ride. (I didn't drive the base 15-inch steel wheels.) You're always awa ...