Illumination brightness control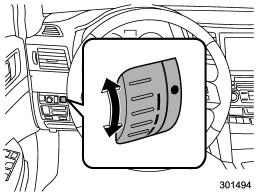 The illumination brightness of the clock display, audio, air conditioner, multi function display and meter/gauge dims under the following conditions.
● when the light switch is in the " " or " " position
● when the light switch is in the "AUTO" position and the headlights illuminate automatically
You can adjust the illumination brightness for better visibility.
To brighten, turn the control dial upward.
To darken, turn the control dial downward.
NOTE
● When the control dial is turned fully upward, the illumination brightness becomes the maximum and the automatic dimming function does not work at all.
● The brightness setting is not canceled even when the ignition switch is turned to the "LOCK" position.
See also:
Jump starting
- Battery fluid is SULFURIC ACID. Do not let it come in contact with the eyes, skin, clothing or the vehicle. If battery fluid gets on you, thoroughly flush the exposed area with water i ...
Washer
To wash the rear window while the rear wiper is operating, turn the knob clockwise to the "" position. The washer fluid sprays until you release the knob. To wash the rear window when the rear ...
Setting pair phone
Refer to "Preparation for using the Handsfree system". ...