Illumination brightness control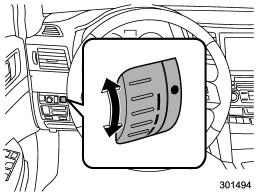 The illumination brightness of the clock display, audio, air conditioner, multi function display and meter/gauge dims under the following conditions.
● when the light switch is in the У Ф or У Ф position
● when the light switch is in the УAUTOФ position and the headlights illuminate automatically
You can adjust the illumination brightness for better visibility.
To brighten, turn the control dial upward.
To darken, turn the control dial downward.
NOTE
● When the control dial is turned fully upward, the illumination brightness becomes the maximum and the automatic dimming function does not work at all.
● The brightness setting is not canceled even when the ignition switch is turned to the УLOCKФ position.
See also:
Maintenance tools
Your vehicle is equipped with the following maintenance tools. ● Jack ● Jack handle ● Screwdriver ● Towing hook (eye bolt) (if equipped) . Wheel nut wrench ● Electro ...
Channel preset
...
Measuring and adjusting air pressure to achieve proper inflation
Check and, if necessary, adjust the pressure of each tire (including the spare) at least once a month and before any long journey. Check the tire pressures when the tires are cold. Use a pressure ...