Illumination brightness control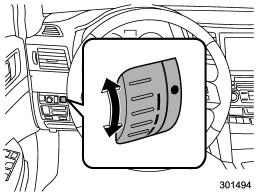 The illumination brightness of the clock display, audio, air conditioner, multi function display and meter/gauge dims under the following conditions.
● when the light switch is in the У Ф or У Ф position
● when the light switch is in the УAUTOФ position and the headlights illuminate automatically
You can adjust the illumination brightness for better visibility.
To brighten, turn the control dial upward.
To darken, turn the control dial downward.
NOTE
● When the control dial is turned fully upward, the illumination brightness becomes the maximum and the automatic dimming function does not work at all.
● The brightness setting is not canceled even when the ignition switch is turned to the УLOCKФ position.
See also:
ABS (Anti-lock Brake System)
The ABS system prevents the lock-up of wheels which may occur during sudden braking or braking on slippery road surfaces. This helps prevent the loss of steering control and directional stability cau ...
Forward direction
Turn the УTUNE/TRACK/CHФ dial clockwise to skip to the beginning of the next track/file (track). Each time the dial is turned, the indicated track/file (track) number will increase. NOTE In an ...
Driving tips
Do not drive with your foot resting on the clutch pedal and do not use the clutch to hold your vehicle at a standstill on an upgrade. Either of those actions may cause clutch damage. Do not drive ...