LOCK
The key can only be inserted or removed in this position. The ignition switch will lock the steering wheel when you remove the key.
If turning the key is difficult, turn the steering wheel slightly to the right and left as you turn the key.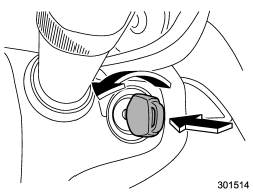 The key can be turned from "Acc" to "LOCK" only when the key is pushed in while turning it (all models) and the select lever is in the "P" position (AT and CVT models).
See also:
Driving on grades
- Before going down a steep hill, slow down and shift into lower gear (if necessary, use 1st gear) in order to utilize the engine braking effect and prevent overheating of your vehicle's brake ...
Refueling in cold weather
To help prevent moisture from forming in the fuel system and the risk of its freezing, use of an antifreeze additive in the fuel tank is recommended during cold weather. Use only additives that ...
SUBARU advanced frontal airbag system
Your vehicle is equipped with a SUBARU advanced frontal airbag system that complies with the new advanced frontal airbag requirements in the amended Federal Motor Vehicle Safety Standard (FMVSS) N ...