Keys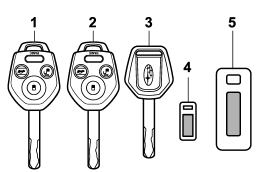 1) Master key
2) Submaster key
3) Valet key
4) Key number plate
5) Security ID plate
Three types of keys are provided for your vehicle:
Master key, submaster key and valet key. The master key and submaster key fit all locks on your vehicle.
● Ignition switch ● Driver's door
● Glove box
● Trunk lid (Legacy)
The valet key fits only the ignition switch and door locks. You can keep the trunk and glove box locked when you leave your vehicle and valet key at a parking facility.
CAUTION
Do not attach a large key holder or key case to either key. If it bangs against your knees while you are driving, it could turn the ignition switch from the "ON" position to the "Acc" or "LOCK" position, thereby stopping the engine.
See also:
Operating the driver's window (type A)
Operating the driver's window (type A) 1) Automatically open/close 2) Open/close To open: Push the switch down lightly and hold it. The window will open as long as the switch is held. This switc ...
Selecting audible signal operation
Using an electronic chirp, the system will give you an audible signal when the doors lock and unlock. If desired, you may turn the audible signal off. Do the following to deactivate the audible ...
Washer
To wash the rear window while the rear wiper is operating, turn the knob clockwise to the "" position. The washer fluid sprays until you release the knob. To wash the rear window when the rear wiper ...