Keys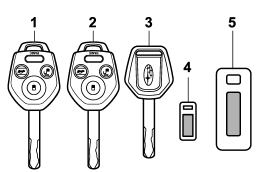 1) Master key
2) Submaster key
3) Valet key
4) Key number plate
5) Security ID plate
Three types of keys are provided for your vehicle:
Master key, submaster key and valet key. The master key and submaster key fit all locks on your vehicle.
● Ignition switch ● Driver's door
● Glove box
● Trunk lid (Legacy)
The valet key fits only the ignition switch and door locks. You can keep the trunk and glove box locked when you leave your vehicle and valet key at a parking facility.
CAUTION
Do not attach a large key holder or key case to either key. If it bangs against your knees while you are driving, it could turn the ignition switch from the "ON" position to the "Acc" or "LOCK" position, thereby stopping the engine.
See also:
Locking the doors
Press the "" button to lock all doors and rear gate (Outback). An electronic chirp will sound once and the turn signal lights will flash once. If any of the doors (or the rear gate/trunk lid) i ...
Effect vehicle modifications made for persons with disabilities may have on SUBARU advanced frontal airbag system operation (U.S. only)
Changing or moving any parts of the front seats, rear seat, seatbelts, front bumper, front side frame, radiator panel, instrument panel, combination meter, steering wheel, steering column, tire, suspe ...
Conditions in which front passenger's SRS frontal airbag is not activated
The front passenger's SRS frontal airbag will not be activated when any of the following conditions are met regarding the front passenger's seat: • The seat is empty. • The seat is equipped with a r ...