Keys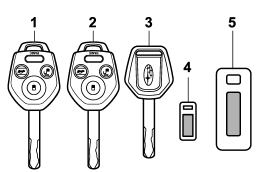 1) Master key
2) Submaster key
3) Valet key
4) Key number plate
5) Security ID plate
Three types of keys are provided for your vehicle:
Master key, submaster key and valet key. The master key and submaster key fit all locks on your vehicle.
● Ignition switch ● Driver's door
● Glove box
● Trunk lid (Legacy)
The valet key fits only the ignition switch and door locks. You can keep the trunk and glove box locked when you leave your vehicle and valet key at a parking facility.
CAUTION
Do not attach a large key holder or key case to either key. If it bangs against your knees while you are driving, it could turn the ignition switch from the "ON" position to the "Acc" or "LOCK" position, thereby stopping the engine.
See also:
To help prevent corrosion
Wash the vehicle regularly to prevent corrosion of the body and suspension components. Also, wash the vehicle promptly after driving on any of the following surfaces. - roads that have been s ...
Most common causes of corrosion
The most common causes of corrosion are: 1. The accumulation of moisture retaining dirt and debris in body panel sections, cavities, and other areas. 2. Damage to paint and other protective ...
Using a warm water washer
- Keep a good distance of 12 in (30 cm) or more between the washer nozzle and the vehicle. - Do not wash the same area continuously. - If a stain will not come out easily, wash by hand. Some w ...