Keys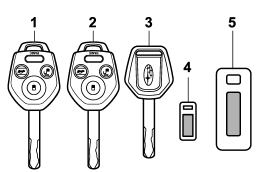 1) Master key
2) Submaster key
3) Valet key
4) Key number plate
5) Security ID plate
Three types of keys are provided for your vehicle:
Master key, submaster key and valet key. The master key and submaster key fit all locks on your vehicle.
● Ignition switch ● Driver's door
● Glove box
● Trunk lid (Legacy)
The valet key fits only the ignition switch and door locks. You can keep the trunk and glove box locked when you leave your vehicle and valet key at a parking facility.
CAUTION
Do not attach a large key holder or key case to either key. If it bangs against your knees while you are driving, it could turn the ignition switch from the "ON" position to the "Acc" or "LOCK" position, thereby stopping the engine.
See also:
To disengage the service mode
Turn the ignition switch to the "ON" position, depress and hold the brake pedal, then press and release the "" button on the remote engine start transmitter three times. The system will pause for 1 se ...
Cooling or dehumidifying
Cooling or dehumidifying 1) ON position For cooling and dehumidification of the passenger compartment, performing the following steps will allow air to flow through the instrument panel outl ...
Wheel replacement
When replacing wheels due, for example, to damage, make sure the replacement wheels match the specifications of the wheels that are fitted as standard equipment. Replacement wheels are available f ...