Keys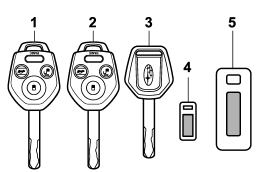 1) Master key
2) Submaster key
3) Valet key
4) Key number plate
5) Security ID plate
Three types of keys are provided for your vehicle:
Master key, submaster key and valet key. The master key and submaster key fit all locks on your vehicle.
● Ignition switch ● Driver's door
● Glove box
● Trunk lid (Legacy)
The valet key fits only the ignition switch and door locks. You can keep the trunk and glove box locked when you leave your vehicle and valet key at a parking facility.
CAUTION
Do not attach a large key holder or key case to either key. If it bangs against your knees while you are driving, it could turn the ignition switch from the "ON" position to the "Acc" or "LOCK" position, thereby stopping the engine.
See also:
Rocking the vehicle
If you must rock the vehicle to free it from snow, sand, or mud, depress the accelerator pedal slightly and move the shift lever/select lever back and forth between "1"/"D" and "R" repeatedly. ...
Shift lock release using the shift lock release button
Perform the following procedure to release the shift lock. 1. Apply the parking brake and stop the engine. 2. Remove the shift lock cover using a flat-head screwdriver. The shift lock release butt ...
Floor mat
Retaining pins are located on the driver's side floor. The floor mat is secured using the built-in grommets, by placing the grommets over the pins and pushing them downward. CAUTION Make sure ...