Keys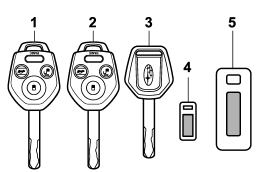 1) Master key
2) Submaster key
3) Valet key
4) Key number plate
5) Security ID plate
Three types of keys are provided for your vehicle:
Master key, submaster key and valet key. The master key and submaster key fit all locks on your vehicle.
● Ignition switch ● Driver's door
● Glove box
● Trunk lid (Legacy)
The valet key fits only the ignition switch and door locks. You can keep the trunk and glove box locked when you leave your vehicle and valet key at a parking facility.
CAUTION
Do not attach a large key holder or key case to either key. If it bangs against your knees while you are driving, it could turn the ignition switch from the "ON" position to the "Acc" or "LOCK" position, thereby stopping the engine.
See also:
Fuel octane rating
This octane rating is the average of the Research Octane and Motor Octane numbers and is commonly referred to as the Anti Knock Index (AKI). Using a gasoline with a lower octane rating can cause p ...
Taking a phone call and declining an incoming call
To take a phone call: Press the OFF hook switch0 . To put an incoming call on hold: Press the ON hook switch briefly . To decline an incoming call: Press the ON hook switch for more than 1.5 sec ...
Accessory power outlets
Power outlet below the climate control Power outlet in the center console Power outlet in the cargo area (if equipped) Accessory power outlets are provided below the climate control, in the c ...