Keys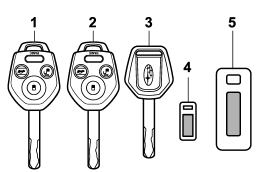 1) Master key
2) Submaster key
3) Valet key
4) Key number plate
5) Security ID plate
Three types of keys are provided for your vehicle:
Master key, submaster key and valet key. The master key and submaster key fit all locks on your vehicle.
● Ignition switch ● Driver's door
● Glove box
● Trunk lid (Legacy)
The valet key fits only the ignition switch and door locks. You can keep the trunk and glove box locked when you leave your vehicle and valet key at a parking facility.
CAUTION
Do not attach a large key holder or key case to either key. If it bangs against your knees while you are driving, it could turn the ignition switch from the "ON" position to the "Acc" or "LOCK" position, thereby stopping the engine.
See also:
Operation during cold weather
Carry some emergency equipment, such as a window scraper, a bag of sand, flares, a small shovel and jumper cables. Check the battery and cables. Cold temperatures reduce battery capacity. The batter ...
Pulling off the fender lining
It is necessary to pull off the fender lining when replacing some bulbs. 1. Start the engine and turn the steering wheel fully in the opposite direction of the bulb to be replaced. 2. Stop the eng ...
Fan speed control dial
The fan operates only when the ignition switch is turned to the "ON" position. The fan speed control dial is used to select four fan speeds. ...