Examples of the types of accidents in which the SRS side airbag is unlikely to deploy.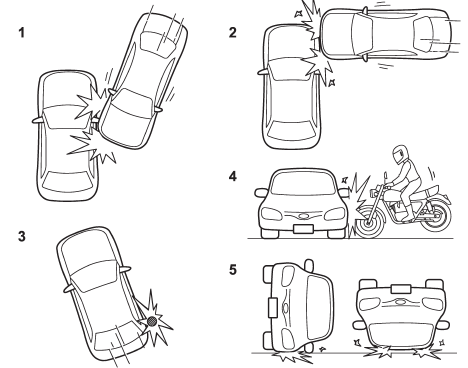 1) The vehicle is involved in an oblique side-on impact.
2) The vehicle is involved in a side-on impact in an area outside the vicinity of the passenger compartment.
3) The vehicle strikes a telephone pole or similar object.
4) The vehicle is involved in a side-on impact from a motorcycle.
5) The vehicle rolls onto its side or the roof.
There are many types of collisions which might not necessarily require SRS side airbag deployment. In the event of accidents like those illustrated, the SRS side airbag may not deploy depending on the level of accident forces involved.
See also:
Washing the underbody
Chemicals, salts and gravel used for deicing road surfaces are extremely corrosive, accelerating the corrosion of underbody components, such as the exhaust system, fuel and brake lines, brake cables, ...
Power door locking switches
1) Lock 2) Unlock All doors and the rear gate (Outback) can be locked and unlocked by the power door locking switches located at the driver's side and the front passenger's side doors. To lock ...
MMT
Some gasoline contains an octane-enhancing additive called MMT (Methylcyclopentadienyl Manganese Tricarbonyl). If you use such fuels, your emission control system performance may deteriorate and the C ...