Examples of the types of accidents in which the SRS side airbag is unlikely to deploy.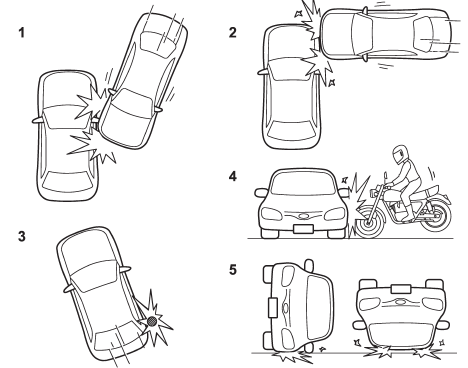 1) The vehicle is involved in an oblique side-on impact.
2) The vehicle is involved in a side-on impact in an area outside the vicinity of the passenger compartment.
3) The vehicle strikes a telephone pole or similar object.
4) The vehicle is involved in a side-on impact from a motorcycle.
5) The vehicle rolls onto its side or the roof.
There are many types of collisions which might not necessarily require SRS side airbag deployment. In the event of accidents like those illustrated, the SRS side airbag may not deploy depending on the level of accident forces involved.
See also:
Adjusting the front seat shoulder belt anchor height
The shoulder belt anchor height should be adjusted to the position best suited for the driver/front passenger. Always adjust the anchor height so that the shoulder belt passes over the middle of the ...
The Inside
The swoopy dashboard styling carries over from the B9 Tribeca, and while it's different from anything else on the market, it doesn't sacrifice ease of use in the name of fashion; all of the contro ...
Exterior & Styling
Let's not mince words here: When it comes to styling, Subaru went off the deep end a few years ago and brought us such gems as the B9 Tribeca — later blandified — and a couple models whose grilles ...