Tether anchorage location
Legacy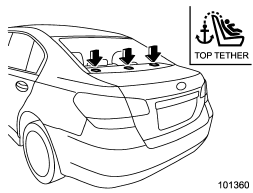 Three tether anchorages are installed on the rear shelf behind the rear seat head restraint. Open the cover flap to use each anchorage.
Three tether anchorages, i.e., ones for the right, center and left positions, are already installed on the rear edge of the roof. Open the cover flap to use each anchorage.
See also:
Tongue load
Tongue load Ensure that the trailer tongue load is from 8 to 11 percent of the total trailer weight and does not exceed the maximum value of 200 lbs (90 kg). 1) Jack 2) Bathroom scal ...
Pre-heating or pre-cooling the interior of the vehicle
Models with automatic climate control system: After the system starts the engine, the automatic climate control system will activate the "FULL AUTO" mode and heat or cool the interior to the predet ...
FM reception
Although FM is normally static free, reception can be affected by the surrounding area, atmospheric conditions, station strength and transmitter distance. Buildings or other obstructions may cause mom ...