Tether anchorage location
Legacy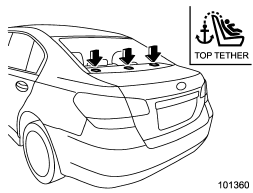 Three tether anchorages are installed on the rear shelf behind the rear seat head restraint. Open the cover flap to use each anchorage.
Three tether anchorages, i.e., ones for the right, center and left positions, are already installed on the rear edge of the roof. Open the cover flap to use each anchorage.
See also:
Programming rolling-code-protected garage door openers in the U.S.A.
If your garage door opener has a rolling code feature, program the HomeLink® Wireless Control System for it by following steps 1 through 5 in "Garage door opener programming in the U.S.A.". Th ...
Difference between screen and actual road
The distance markers show the distance for a level road when the vehicle is not loaded. It may be different from the actual distance depending on the loading conditions or road conditions. When t ...
Trailer towing
Your vehicle is designed and intended to be used primarily as a passenger-carrying vehicle. Towing a trailer puts additional loads on your vehicle's engine, drivetrain, brakes, tires and suspensio ...