Tether anchorage location
Legacy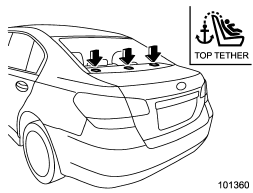 Three tether anchorages are installed on the rear shelf behind the rear seat head restraint. Open the cover flap to use each anchorage.
Three tether anchorages, i.e., ones for the right, center and left positions, are already installed on the rear edge of the roof. Open the cover flap to use each anchorage.
See also:
Safety warnings
You will find a number of WARNINGs, CAUTIONs and NOTEs in this manual. These safety warnings alert you to potential hazards that could result in injury to you or others. Please read these safety war ...
Turbo models
Your vehicle is equipped with "summer tires" as original equipment, which are inadequate for driving on slippery roads such as on snow-covered or icy roads. Compared with winter and all-season tires, ...
Help line
The help line (distance marker and vehicle width line) is a guide to help you realize the actual distance from the screen. Help lines displayed on the navigation monitor Help lines displayed o ...