Seatbelt warning light and chime
NOTE
If your seatbelt warning device does not operate as described in the following, it may be out of order. Have the device inspected and, if necessary, repaired by the nearest SUBARU dealer.
Your vehicle is equipped with a seatbelt warning device at the driver's and front passenger's seat, as required by current safety standards.
With the ignition switch turned to the "ON" position, this device reminds the driver and front passenger to fasten their seatbelts by the warning lights in the locations indicated in the following illustration and a chime.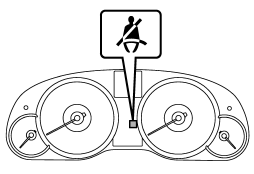 Driver's warning light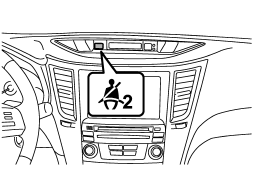 Front passenger's warning light
See also:
Rear windows side seating position
Rear windows side seating position 1) Head restraint 2) Release button To remove: While pressing the release button, pull out the head restraint. To install: Install the head restraint into the ...
License plate light
1. Remove the mounting screws using a Phillips screwdriver. 2. Remove the cover and lens. 3. Pull the bulb out of the socket. 4. Install a new bulb. 5. Reinstall the lens and cover. 6. Tighte ...
Control panel
Control panel 1) Temperature control dial 2) Fan speed control dial 3) Airflow control dial 4) Control switch of the defogger and deicer system (Refer to "Defogger and deicer".) 5) Air ...