Rear window side seating position
1) Head restraint 2) Release button
To raise:
Pull the head restraint up.
To lower:
Push the head restraint down while pressing the release button on the top of the seatback.
To remove:
While pressing the release button, pull out the head restraint.
To install:
Install the head restraint into the holes that are located on the top of the seatback until the head restraint locks.
The head restraint should be adjusted so that the center of the head restraint is closest to the top of the occupant's ears. When the seats are not occupied, lower the head restraints to improve rearward visibility.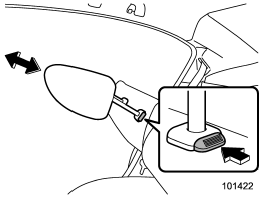 NOTE
For Legacy, it is not possible to remove or install the head restraint without folding down the rear seatback. Fold down the rear seatback and then remove or install the head restraint.
See also:
Driving tips
Do not drive with your foot resting on the clutch pedal and do not use the clutch to hold your vehicle at a standstill on an upgrade. Either of those actions may cause clutch damage. Do not drive ...
Uniform Tire Quality Grading (UTQG)
For details, refer to "Uniform tire quality grading standards". ...
Power windows
To avoid serious personal injury caused by entrapment, always conform to the following instructions without exception. • When operating the power windows, be extremely careful to prevent anyone's ...