Rear window side seating position
1) Head restraint 2) Release button
To raise:
Pull the head restraint up.
To lower:
Push the head restraint down while pressing the release button on the top of the seatback.
To remove:
While pressing the release button, pull out the head restraint.
To install:
Install the head restraint into the holes that are located on the top of the seatback until the head restraint locks.
The head restraint should be adjusted so that the center of the head restraint is closest to the top of the occupant's ears. When the seats are not occupied, lower the head restraints to improve rearward visibility.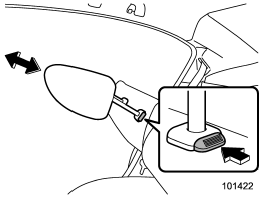 NOTE
For Legacy, it is not possible to remove or install the head restraint without folding down the rear seatback. Fold down the rear seatback and then remove or install the head restraint.
See also:
Gross Axle Weight (GAW) and Gross Axle Weight Rating (GAWR)
Gross Axle Weight The total weight applied to each axle (GAW) must never exceed the Gross Axle Weight Rating (GAWR). The front and rear GAWs can be adjusted by relocating passengers and luggage ...
Periodic inspections
To keep your vehicle in the best condition at all times, always have the recommended maintenance services listed in the maintenance schedule in the "Warranty and Maintenance Booklet" performed ...
Trailer lights
CAUTION Direct splicing or other improper connection of trailer lights may damage your vehicle's electrical system and cause a malfunction of your vehicle's lighting system. Connection of trailer ...