Rear window side seating position
1) Head restraint 2) Release button
To raise:
Pull the head restraint up.
To lower:
Push the head restraint down while pressing the release button on the top of the seatback.
To remove:
While pressing the release button, pull out the head restraint.
To install:
Install the head restraint into the holes that are located on the top of the seatback until the head restraint locks.
The head restraint should be adjusted so that the center of the head restraint is closest to the top of the occupant's ears. When the seats are not occupied, lower the head restraints to improve rearward visibility.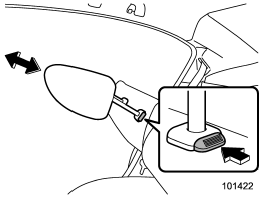 NOTE
For Legacy, it is not possible to remove or install the head restraint without folding down the rear seatback. Fold down the rear seatback and then remove or install the head restraint.
See also:
Trunk light
1. Remove the cover by squeezing its sides and pulling it. 2. Pull the bulb out of the socket. 3. Install a new bulb. 4. Reinstall the cover. ...
Repeating
Repeating is operated in the same way a CD is played. Refer to "Repeating". Each time you briefly press the button (type C audio)/ button (the "RPT" button) (type D audio), the mode chang ...
ABS (Anti-lock Brake System)
The ABS system prevents the lock-up of wheels which may occur during sudden braking or braking on slippery road surfaces. This helps prevent the loss of steering control and directional stability cau ...