Rear window side seating position
1) Head restraint 2) Release button
To raise:
Pull the head restraint up.
To lower:
Push the head restraint down while pressing the release button on the top of the seatback.
To remove:
While pressing the release button, pull out the head restraint.
To install:
Install the head restraint into the holes that are located on the top of the seatback until the head restraint locks.
The head restraint should be adjusted so that the center of the head restraint is closest to the top of the occupant's ears. When the seats are not occupied, lower the head restraints to improve rearward visibility.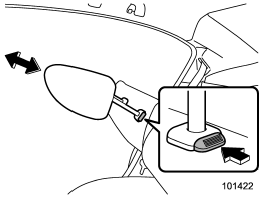 NOTE
For Legacy, it is not possible to remove or install the head restraint without folding down the rear seatback. Fold down the rear seatback and then remove or install the head restraint.
See also:
Security indicator light
The security indicator light deters potential thieves by indicating that the vehicle is equipped with an immobilizer system. It begins flashing approximately 60 seconds after the ignition switch ...
Control panel
Control panel 1) Temperature control dial 2) Fan speed control dial 3) Airflow control dial 4) Control switch of the defogger and deicer system (Refer to "Defogger and deicer".) 5) Air conditio ...
Garage door opener programming in the U.S.A.
NOTE When programming the HomeLink® Wireless Control System for a garage door opener, it is suggested that you park the vehicle outside the garage. 1. Unplug the motor of the garage door op ...