Legacy
To fold down the seatback, perform the following procedure.
1. Open the trunk lid. Refer to "Opening the trunk lid (Legacy)" F2-9 or "To open the trunk lid from inside" F2-24.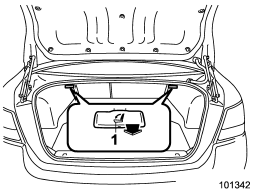 1) Release lever
2. Pull the release lever on the side that you want to fold down.
3. Fold the seatback down.
To return the seatback to its original position, raise the seatback until it locks into place and make sure that it is securely locked.
See also:
To increase the speed (by the "RES/ SET" switch)
Press the "RES/SET" switch to the "RES" side and hold it until the vehicle reaches the desired speed. Then, release the switch. The vehicle speed at that moment will be memorized and treated as ...
Brake assist system
WARNING Do not be overconfident about the brake assist. It is not a system that brings more braking ability to the vehicle beyond its braking capability. Always use the utmost care when driving r ...
Head restraint adjustment
Both the rear window side seats and the rear center seat are equipped with head restraints. • Never drive the vehicle with the head restraints removed because they are designed to reduce the risk ...