Replacing an air filter
1. Remove the glove box.
(1) Open the glove box.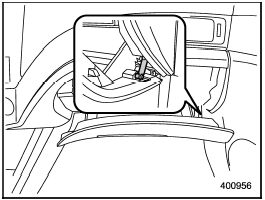 (2) Remove the damper shaft from the glove box.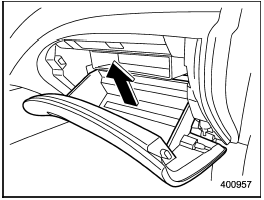 (3) Pull out the glove box.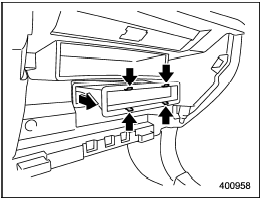 2. Remove the air filter.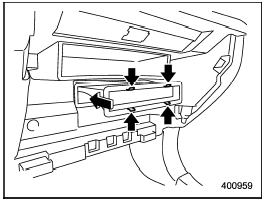 3. Replace the air filter element with a new one.

The arrow mark on the filter must point UP.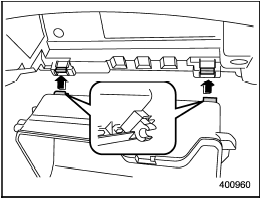 4. Reinstall the glove box, and connect the damper shaft.
5. Close the glove box.
6. LABEL installation
(1) Fill out the information on the service label (small).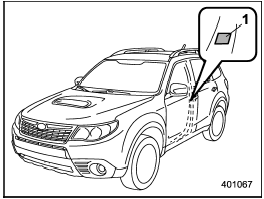 1) Service label
(2) Attach the service label to the driver's side door pillar.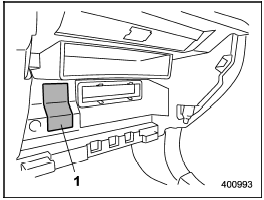 1) Caution label
(3) Attach the caution label next to the air filter as shown in the illustration.
See also:
Maximum permissible inflation pressure
The maximum cold inflation pressure to which this tire may be inflated. For example, "300 kPa (44 PSI) MAX. PRESS" ...
Before starting out on a trip
● Check that the vehicle and vehicle-tohitch mounting are in good condition. If any problems are apparent, do not tow the trailer. ● Check that the vehicle sits horizontally with the tr ...
Outside temperature indicator
Outside temperature indicator 1) U.S.-spec. models 2) Except U.S.-spec. models The outside temperature indicator shows the outside temperature in a range from −22 to 1228F (−30 ...